The iPhone 12 Pro Max is more than just the largest model in the 2020 iPhone collection, with the super-sized smartphone boasting better battery life and even camera specifications that improve on what the iPhone 12 offers.
iPhone 12 Pro Max – display, design, and size
The external appearance of the iPhone 12 Pro Max matches the rest of the iPhone 12 family, with flat sides that produce more defined edges to the stainless steel body, as well as making it closer in style to the iPad Pro lineup. Along with the stronger chassis, Apple is also employing its toughened Ceramic Shield glass to the front and back for added durability, with the rear also sporting a textured matte glass effect.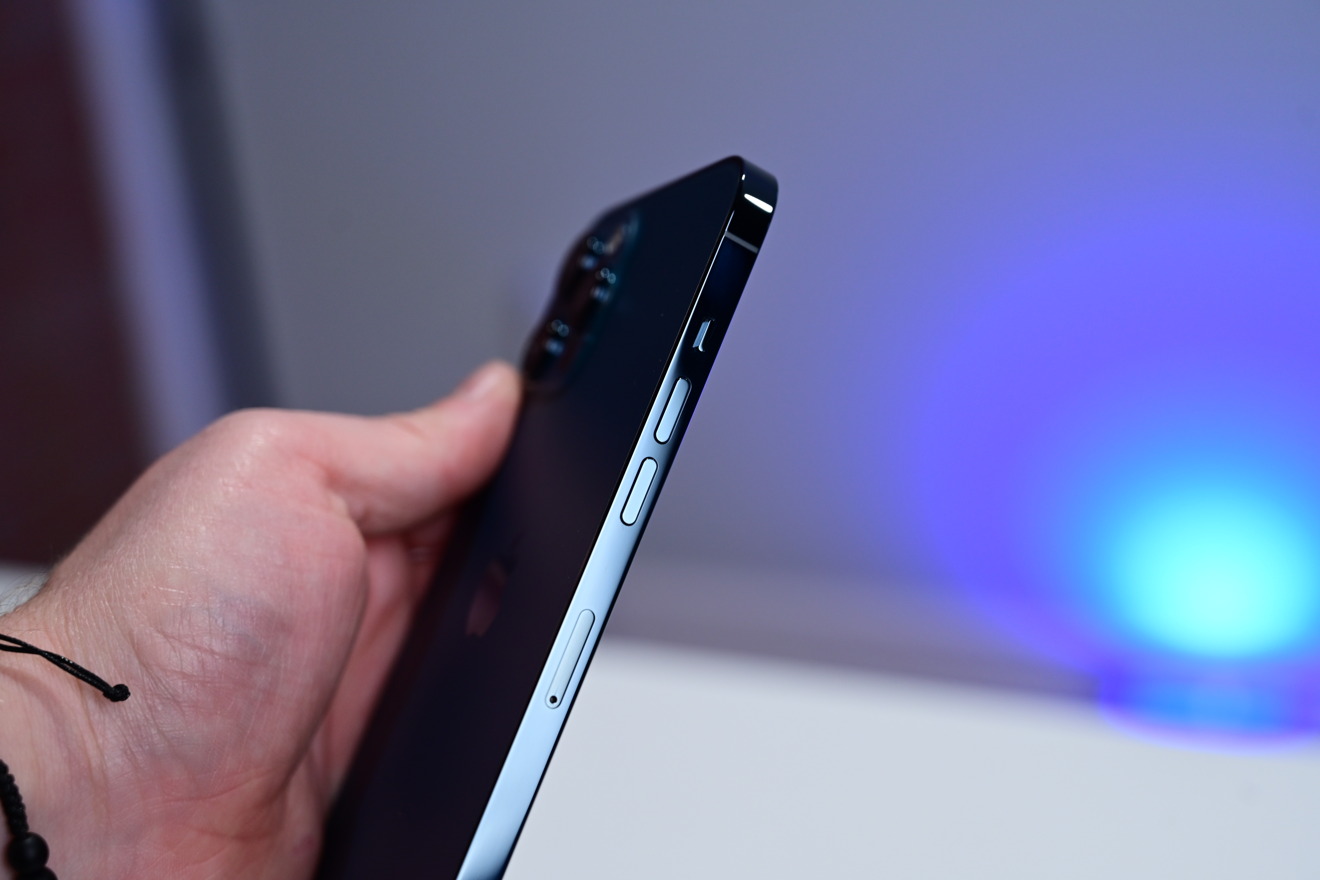 The stainless steel band of the Pacific Blue iPhone 12 Pro Max
Continuing the durability theme, Apple has also improved its water resistance over the previous generation, with it now capable of surviving a depth of up to six meters of water for up to 30 minutes. Previously, this was four meters for half an hour.
This year, there's four colors to choose from, with a "traditional" silver, a tweaked gold that's slightly lighter than in previous years, accompanied by the tweaked graphite instead of space gray, as well as the new Pacific blue.
At 6.33 inches tall and 3.07 inches wide, the device is well within "phablet" territory, while maintaining a 0.29-inch thickness of its stablemate, the iPhone 12 Pro. Its size also makes it the heaviest in the range at 8.03 ounces.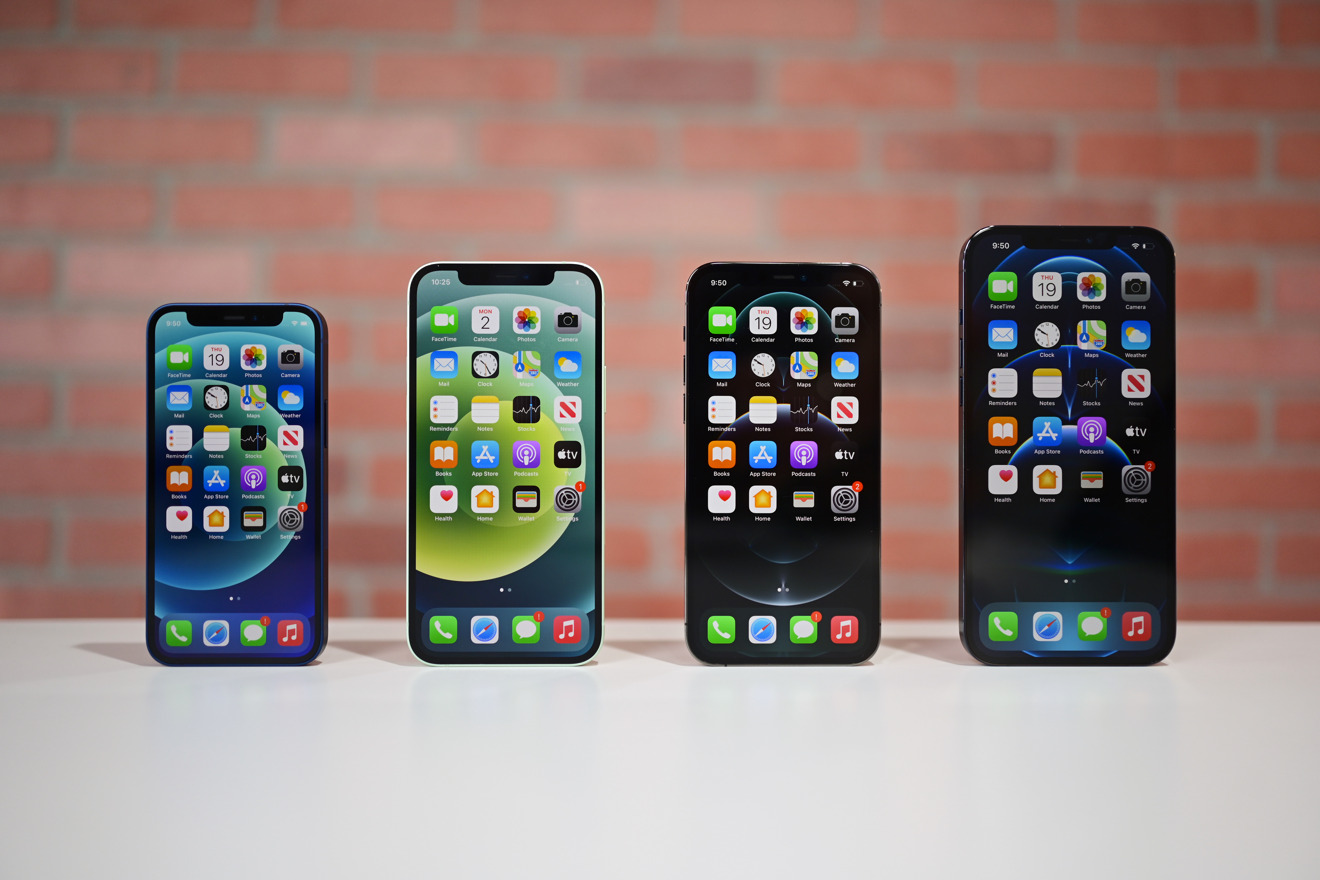 The entire iPhone 12 lineup, iPhone 12 Pro Max on the right
This reviewer has large hands, and it is in no way a one-hand iPhone. It's a comfortable and solid hold, but it is a big iPhone, and there is no question about it. We've passed it around to several of our colleagues and friends, and the general consensus is that this phone is pretty good at a desk, but not something you'd want to walk around and use.
That bulk allows Apple to slap on a big screen and battery. The 6.7-inch Super Retina screen resolution is 2,778 by 1,284, with a pixel density of 458 pixels per inch. In theory, the bigger screen makes it better to watch content, complete with its 2 million to one contrast ratio and up to 1,200 nits of brightness for HDR video driven by its use of OLED. In actuality, though, that extra quarter-inch diagonal versus the iPhone 11 Pro Max doesn't give a lot to the user, that it hadn't already provided in the slightly smaller device.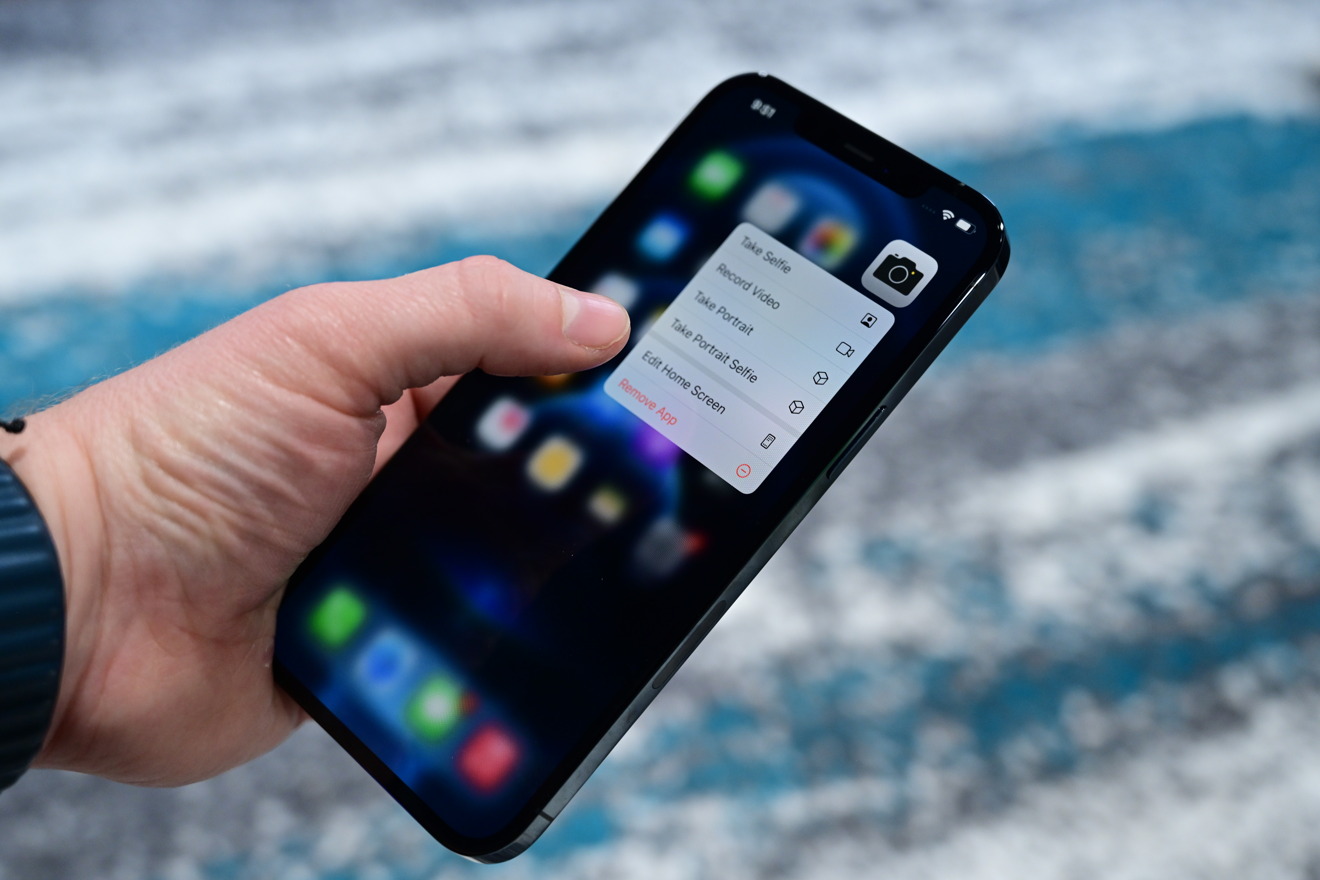 The phone is so big so maneuvering is required to reach the upper limits
Just as with the iPhone 12 Pro, you still have True Tone and Wide Color (P3) support, Haptic Touch, and Apple's frequently-used oleophobic coating on the display.
The new phones are no more or no less fingerprint magnets. Wipe it down with a clean microfiber cloth, or even a paper towel from time to time, and you'll be fine.
iPhone 12 Pro Max – specifications
Internally, there's little difference in the processing performance of the iPhone 12 Pro Max over the other versions, as it uses the same powerful A14 Bionic chip as all of the other iPhone 12 models. This means it has a CPU with six cores consisting of two high-performance cores alongside four high-efficiency cores, the latest 16-core Neural Engine capable of up to 11 trillion calculations per second, an improved four-core GPU, and a new image signal processor.
Ultimately, this translates to an improvement of roughly 20% over the A13 Bionic in the iPhone 11 Pro for single-core Geekbench testing, while the multi-core performance is in the ballpark of 15% better than last year's main effort.
While you may not necessarily see the difference in performance all the time, it will mean the iPhone 12 Pro Max will be zippier when you open or resume apps, making it extremely useful for the Camera app. How much this actually matters varies, given how iOS handles RAM and open apps.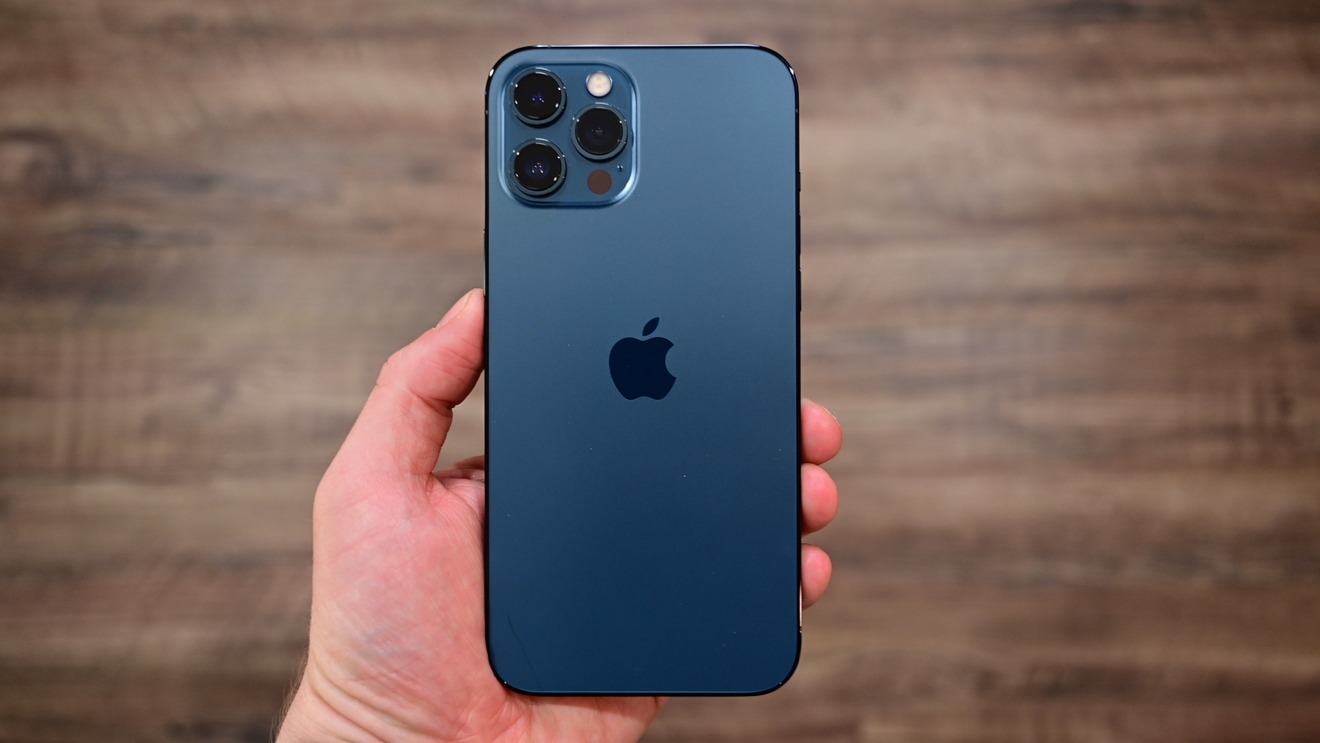 The back glass of the iPhone 12 Pro Max
But, where that power really matters is in handling the processing tasks pushed its way by the camera, both for HDR and computational photography.
Like the iPhone 12 Pro, the iPhone 12 Pro Max benefits from having 6 gigabytes of memory over the 4 gigabytes used in the non-Pro models. Another improvement the Pro models have is an expanded storage capacity range versus the non-iPhone 12 Pro models. Storage capacities start at 128GB with 256GB and 512GB models available.
While we're sure a 1TB phone is inevitable, given the increasing shift away from desktop and laptop computers to mobile devices as a primary computing tool, it isn't here today.
iPhone 12 Pro Max – still photography
As it has for the last few years, the camera array is in a fairly large protrusion on the back of the phone. Not much has changed here — you either despise the protrusion, or you don't care. Nearly every protective case that almost every consumer buys shields that bump and levels out the back of the phone.
Like the iPhone 12 Pro, the iPhone 12 Pro Max has three 12-megapixel camera sensors on the back, giving Ultra Wide, Wide, and Telephoto coverage.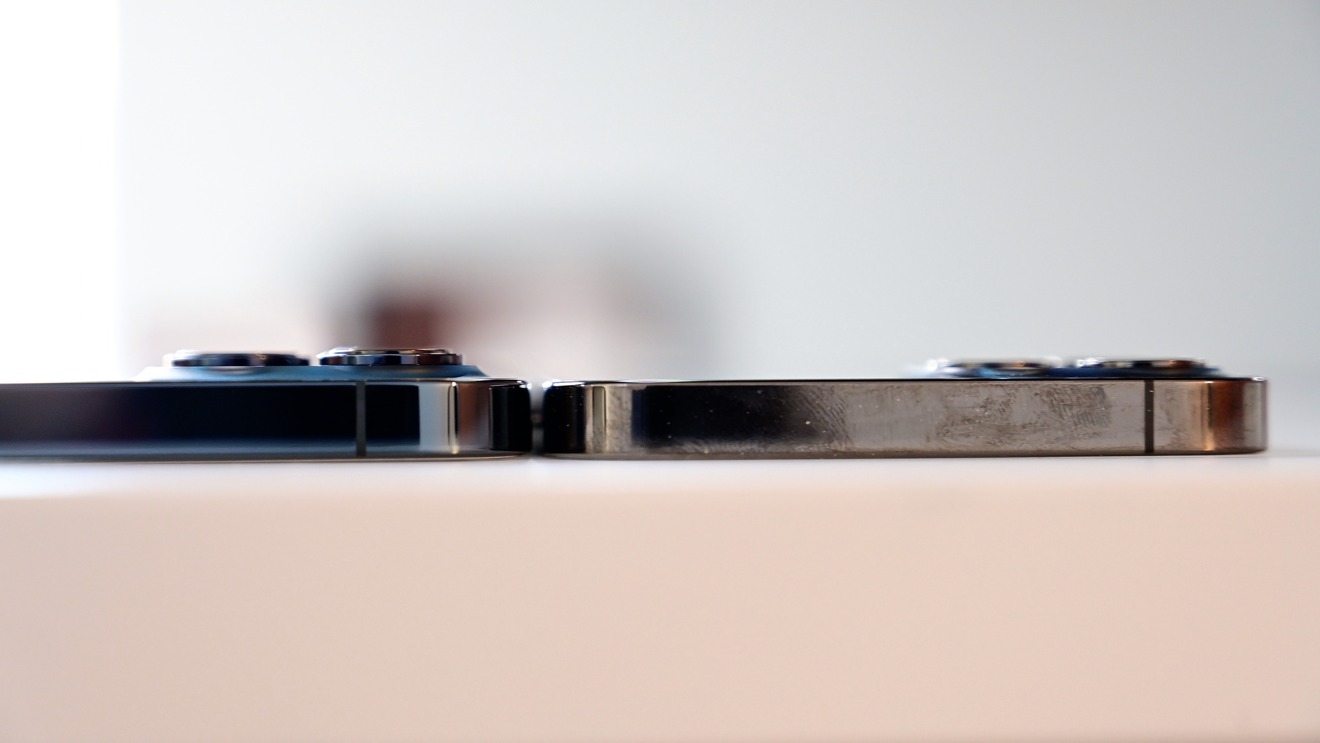 iPhone 12 Pro Max (left) has a more protruding camera bump than the iPhone 12 Pro (right)
The Ultra Wide offers an f/2.4 aperture and a 120-degree field of view, while the Wide has an f/1.6 aperture. For the Telephoto, the aperture in the Max goes to f/2.2 instead of f/2.0 used in the Pro, which is a slight step down.
However, the iPhone 12 Pro Max does better with its overall optical zooming range, with the 2x optical zoom in upgraded to 2.5x for the model against 2x in the Pro, along with the standard 2x optical zoom out. In the real world, this gives the iPhone 12 Pro Max a very slightly better better optical zoom range of 5x over 4x in the Pro, as well as improving the digital zoom from 10x to 12x.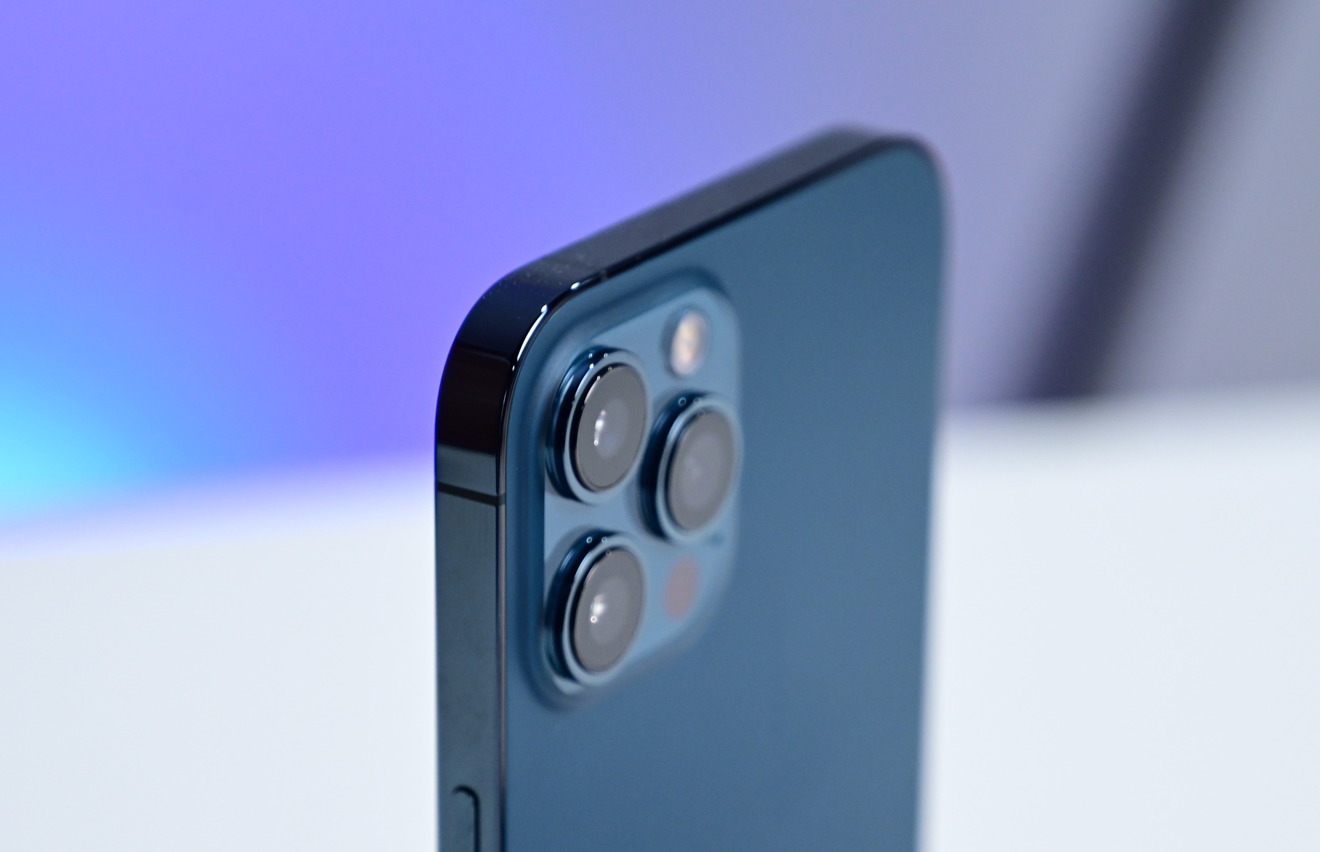 A closeup of the iPhone 12 Pro Max camera
The Wide camera in the iPhone 12 Pro Max also benefits from upgraded optical image stabilization system called sensor-shift, which physically moves the sensor around inside the camera in a similar manner to Optical Image Stabilization (OIS) systems in some DSLR and mirrorless cameras. By making up to 5,000 adjustments per second, Apple's system can help produce steadier shots overall compared to the lens-shift system typically used for smartphone OIS systems.
Apple also made the Wide camera sensor better for low-light photographs by making it 47% larger. As the resolution remains the same, this means each pixel of the sensor is collecting more light, which makes it more efficient at gathering light data for shots. This is the most visible change that most users will see, with photos shot on the iPhone 12 Pro Max versus any other model of iPhone.
This is on top of the main new addition to the rear cameras for 2020, the use of a LiDAR sensor. Putting the sensor on the rear enables the iPhone autofocus to be up to six times faster in low light situations, as well as making it easier to capture Portraits in its new Night mode.
That's before you even consider its potential applications in augmented reality. Apps using ARKit will be able to take advantage of the extra data to more accurately depict virtual content on the real-world camera view.
All of the cameras benefit from Deep Fusion, with Apple also including a night mode for the ultra-wide and wide for low-light photography. Smart HDR 3 will help create vibrant images.
For still images, the addition of Apple ProRAW will be appealing to photographers, providing the benefits of capturing RAW images while also benefiting from image processing from Deep Fusion and Smart HDR. In practice, this means the iPhone will handle elements like noise reduction and multi-frame exposure adjustments automatically, while still enabling users to refine other elements such as the white balance and color.
This is all fine and good, but realistically, other than the aforementioned low-light situation, if you're shooting with the iPhone, the Camera app, with normal settings, in normal lighting almost nobody will be able to see the differences. We've been doing this a long time, and it was very hard to see the differences under these conditions between the iPhone 12 Pro Max, and the iPhone 11 Pro Max.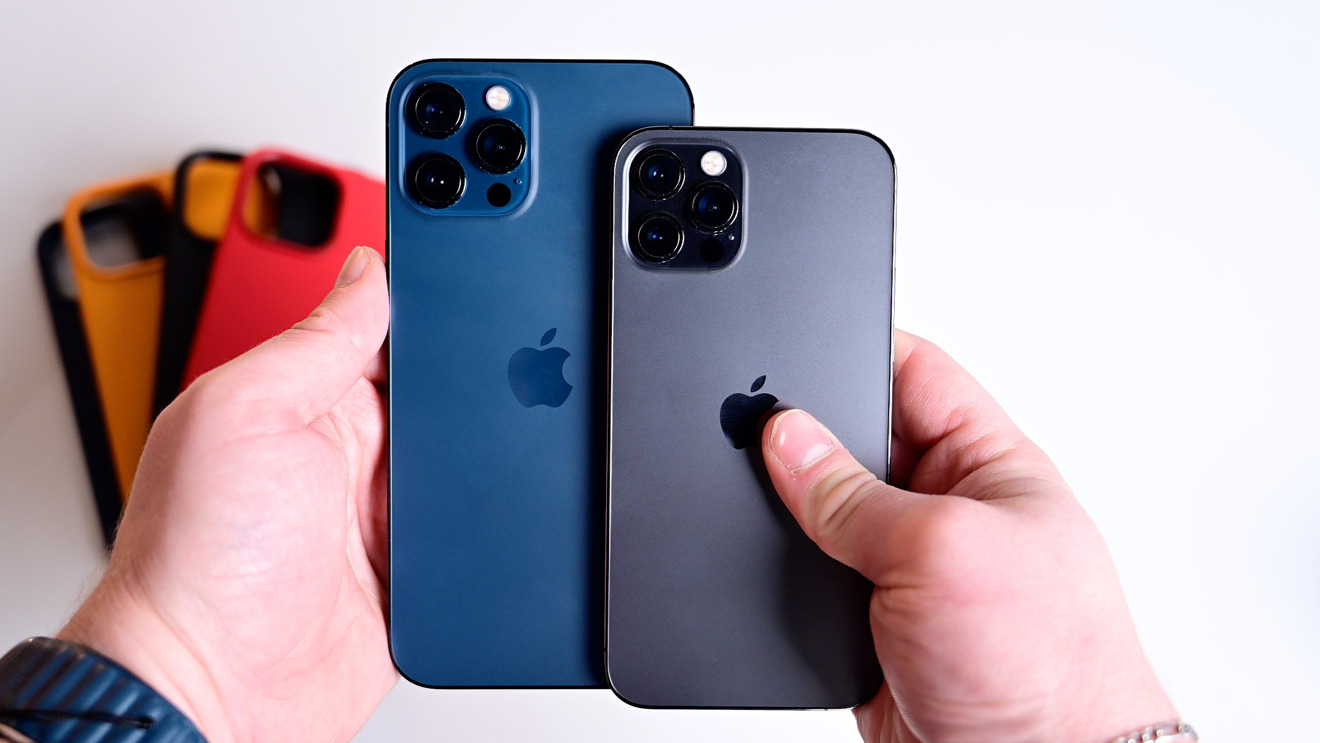 iPhone 12 Pro Max has the better camera
So, we called around to some of our professional photography friends. They pointed out minute details in images, specifically after we started shooting in RAW, and using applications like Halide.
We'll be delving into these differences fairly soon, but we will say this — if you're a casual photographer, using default apps and settings, you're going to have a hard time telling the camera apart from the iPhone 12 Pro, or the iPhone 11 Pro family of devices.
Apple's Camera app is good enough for 99% of the population. It will give you excellent shots, in nearly every environment, automatically. But to get the most out of the upgraded sensor, and what the iPhone 12 brings to the table, and you have an inkling of what you're doing, get Halide, or your photography app of choice, and play around with the camera, to really stretch it out.
iPhone 12 Pro Max – shooting video
The iPhone 12 Pro normal video recording modes cover 4K up to 60fps and slo-mo at 1080p 240fps. There's also extended dynamic range for video, continuous autofocus, cinematic video stabilization, a night mode time lapse, and even the ability to take 8-megapixel photographs while recording 4K video.
With iOS 14 in conjunction with the iPhone 12 Pro line, Apple has included support for recording and editing HDR content in Dolby Vision at up to 60fps. Footage for TV shows and movies are usually mastered in Dolby Vision but not typically shot natively in it today, this notable for a mobile device.
But, as with the camera, much of this comes down to the shooting skill and editing ability of the videographer behind the lens — to say nothing of having a home media setup capable of getting the most out of that footage. Even without the additions of Dolby Vision, again, the iPhone 12 Pro Max far, far exceeds anything that 99% of the users of the device will ever, ever need.
iPhone 12 Pro Max – selfie camera
To the front is the 12-megapixel TrueDepth camera, which provides the core functionality for Face ID. Consisting of an f/2.2 aperture camera with added depth mapping data, it offers the usual Portrait mode shooting with selective bokeh controls, six Portrait Lighting effects, and Animoji and Memoji support.
Like the rear cameras, it also has Night mode, Deep Fusion, Smart HDR3, and Dolby Vision HDR video capture, at up to 30fps. It is also capable of 4K video recording at up to 60fps, extended dynamic range at 30fps, 120fps slo-mo video, time-lapse video with stabilization, Night mode time-lapse, automatic image stabilization, and cinematic video stabilization at up to 4K.
iPhone 12 Pro Max – power and MagSafe
As the biggest iPhone in the range, it stands to reason that the iPhone 12 Pro Max also has the biggest battery capacity to match its size. This also gives it the best battery life, with Apple claiming it can last for up to 20 hours of video playback, or up to 12 hours of video playback when streamed, and up to 80 hours of audio playback.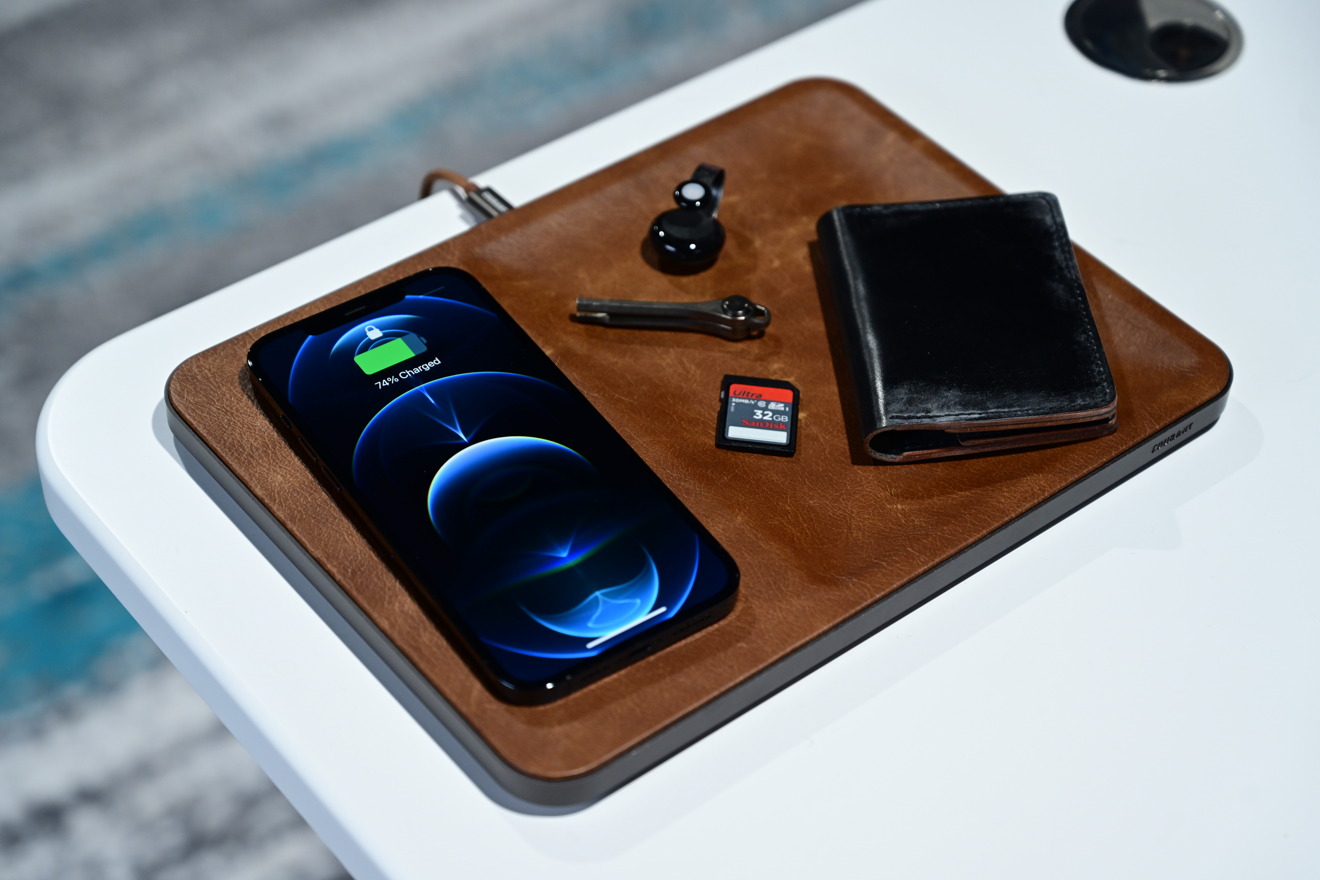 Wireless charging iPhone 12 Pro Max on the Courant Vallet
Our battery testing bears out Apple's claims for the most part, but more on that when we get to the 5G discussion.
If you're using a 20W charger — which much has already been made about it being supplied separately — there's a fast charge capability when connected to the Lightning port, allowing it to reach up to 50% charge in about 30 minutes.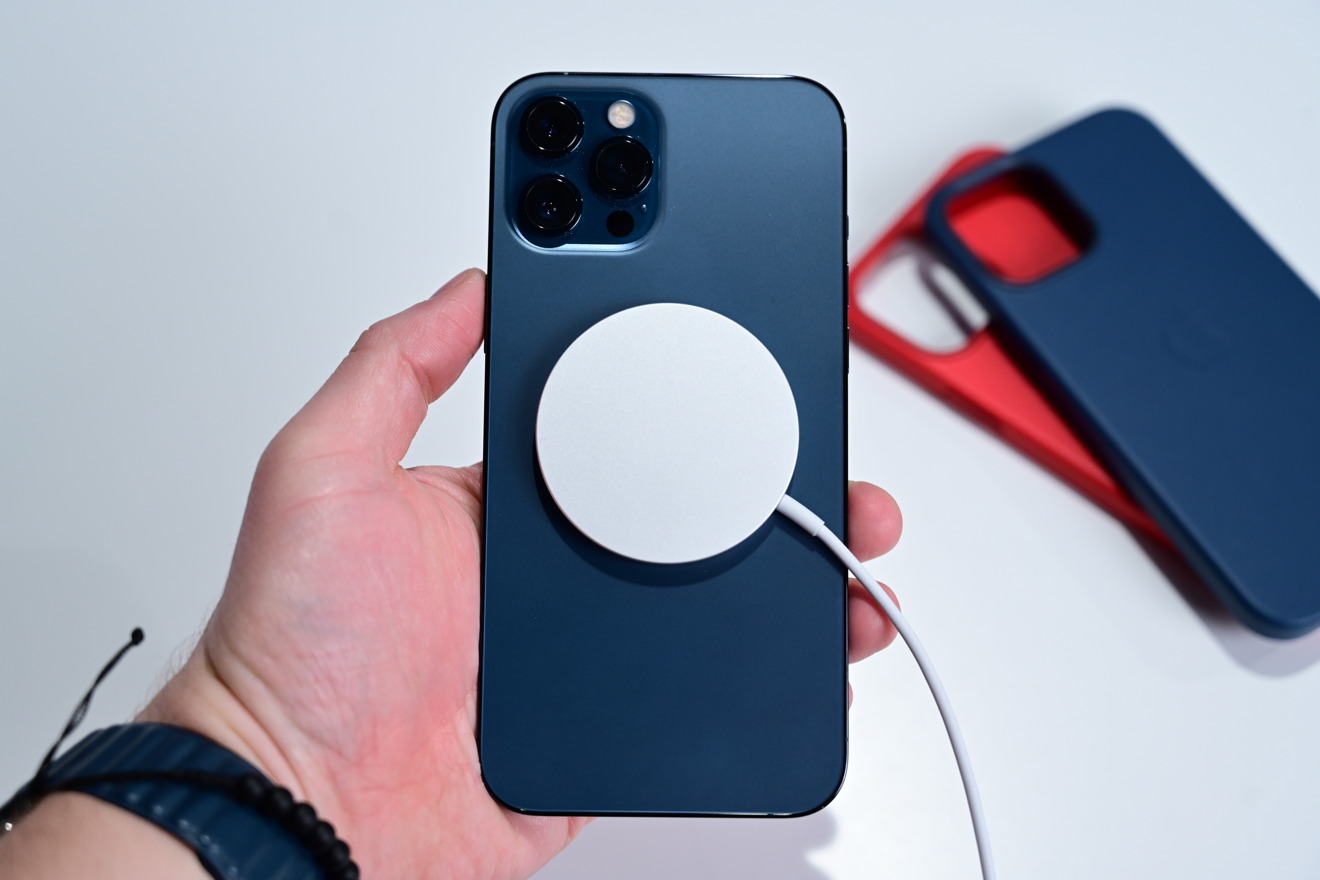 MagSafe charging puck connected to the back of the iPhone 12 Pro Max
Using a magnet array, MagSafe can lightly affix a charger to the back of the iPhone, lining it up for optimal energy transfers, which can be up to 15 watts under ideal conditions. This won't be as fast as most Lightning charging evolutions, but it's still a considerable leap forward for Apple's wireless capabilities.
Some Qi charging bases are more fidgety than others. Some you can drop down, and it does a pretty good job of alignment, because of multiple engineering choices made in the pad. Some require very specific positioning, or you get nothing.
MagSafe eliminates the issue of having to repeatedly reposition the iPhone on that fidgety wireless charger to get the right spot. With magnets guiding the way, it makes placing the iPhone effortless.
Apple has also extended MagSafe to its non-power accessories, with its new cases extending the magnetic ring to maintain its attraction, rather than weakening the effect. The addition of NFC chips in cases also allows the iPhone to recognize a case has been attached, to the point where a color-matched animated ring appears on its display.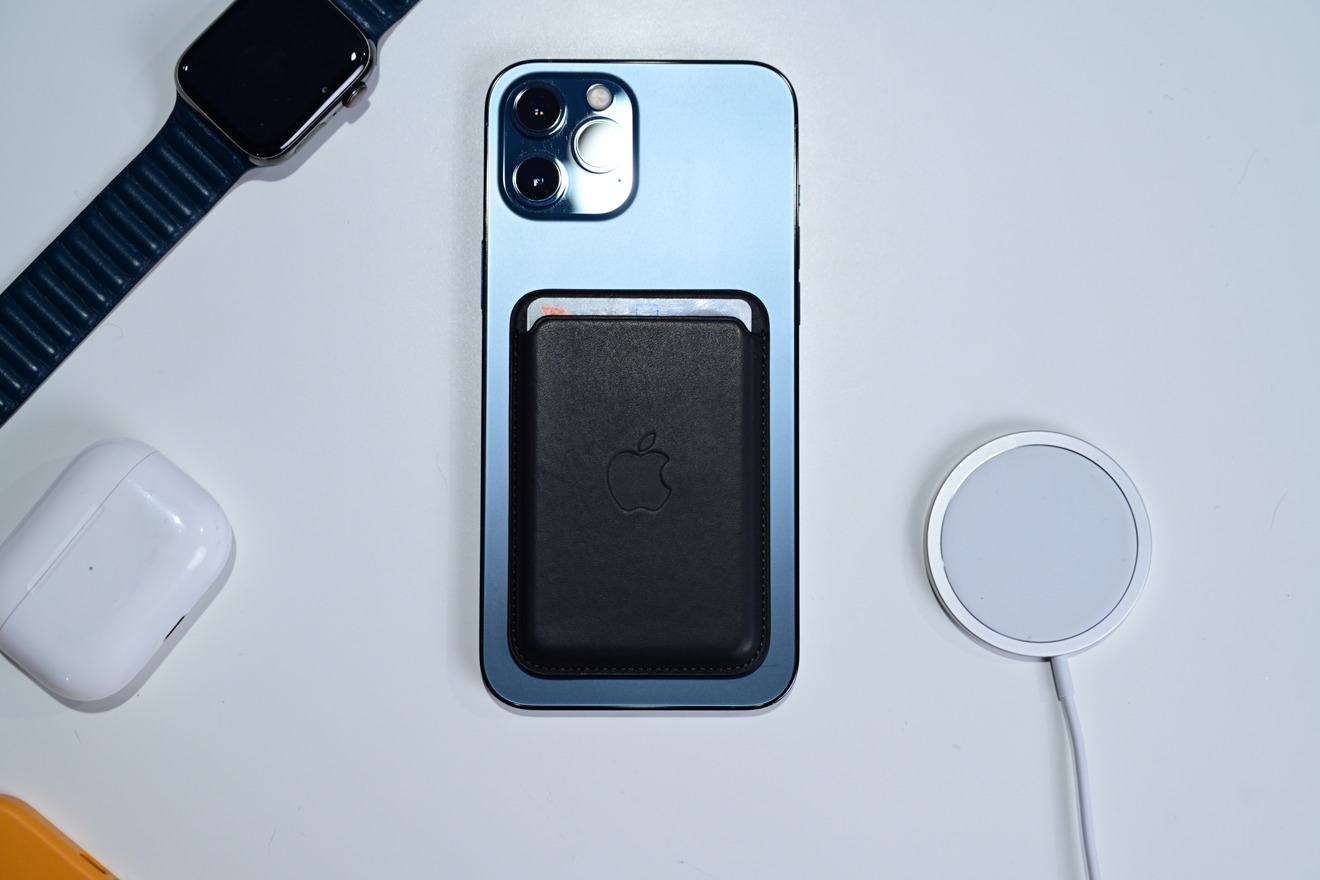 MagSafe wallet on iPhone 12 Pro Max
MagSafe also allows for other accessories to be attached to the rear, such as the card holders and wallets, docks and mounts, and practically anything else wants to stick to the back of their mobile device.
Opinions on MagSafe vary amongst the staff. Some have been quick to embrace the accessory ecosystem, some, like this reviewer have not been happy with what's been made available so far.
Frankly, a MagSafe wallet on a giant phone that is already a challenge to get in most (men's) pants pockets is a really bad idea. Some preliminary testing with it has found it relatively easy to scrape off as the device goes in a pocket, with the wallet and all of the contained cards ending up on the ground. But, this isn't the case on the smaller devices, so the internal debates here continue.
A MagSafe adapter for a car mount ships that isn't just a frame for Apple's adapter is inevitable, but isn't here today. That may change a few of our minds about the subject.
While we're discussing it, the cord on the MagSafe charger is way too short. We'd really like to see this changed, without having to resort to an extension cable.
iPhone 12 Pro Max – 5G and wireless connectivity
A major feature of this year's iPhones is support for 5G connectivity, which is actually two different elements working together across cellular networks. The technology can provide high-speed communications technology that covers a wide area, but it's much more nuanced than that.
The first element is made up of sub-6GHz bands that provide blanket signal coverage in a similar way to how 4G LTE functions. This allows for 5G networks to be widespread, but for this, it would effectively be at connection speeds comparable to existing 4G LTE networks.
The second part, mmWave, promises the potential gigabit-level speeds to users. However, as mmWave isn't a resilient signal, it will work at lower ranges and is easily disrupted, meaning it will only really be deployed in areas with high population densities, such as areas of a city. And even then, you'll need to have line of sight to the mmWave "tower" which is generally a box on a telephone pole with absolutely no obstructions between you and it — including a window, tree leaves, or a mesh window screen.
The display is beautiful for reading, watching, or checking our photos
That Apple includes support for both high-speed and high-resilience elements is great for consumers, who will be able to benefit from the connectivity where it is available, depending on their carrier's rollout.
Apple has also claimed its iPhones will fall back to 4G connections in instances where high amounts of bandwidth are not required. This should help prolong battery life as 5G connectivity is a power-hungry technology to operate, and when we took the phone into Washington DC for testing, we got between seven and eight hours of operational battery life while the phone was hunting for signal, with it only very rarely connecting to the high-speed mmWave network.
In short, today, your mileage will vary a great deal when it comes to 5G. We're glad the phone includes it for the future, but don't count on big gains today.
iPhone 12 Pro Max – Wi-Fi, Bluetooth, and Ultra Wideband
For wireless networking, the iPhone 12 has Wi-Fi 6 support, equating to 802.11ax, with 2×2 MIMO. Bluetooth 5.0 is also available for connecting to other devices, while NFC is offered with a reader mode and for Apple Pay transactions.
Like the previous generation, Apple has included an Ultra Wideband chip, which it says is for spatial awareness. While this previously would have been used just for more accurate AirDrop device detection, it also has the potential for other uses.
The HomePod mini uses UWB to manage some of its proximity detection capabilities, allowing it to perform handoff transactions with the iPhone for content. For future uses, the often-rumored "AirTags" are also believed to use UWB for transmitting its location, which may also help in finding the tags and lost objects, as well as for managing HomeKit devices.
There's certainly potential for UWB, but it's largely up to Apple how it expands on the concept.
Still a lot of phone, for still a lot of money
The iPhone 12 Pro Max is indisputably the king of Apple's iPhone lineup, as the highest-end iPhone is every year. Much has already been said about the device, with varying levels of inflammatory headlines about pricing, the lack of an AC adapter, and more.
We spent a lot of time figuring out what exactly to say about the iPhone 12 Pro Max, other than what it is, and what it can do. Through the entire evolution of the thought process, we kept coming back to one point — this is a fantastically powerful computing device and a stunning camera and portable video studio, but at the same time it is too much phone in nearly every regard, for nearly everybody.
The iPhone 12 Pro Max is a lot of phone for today. The camera is far more than nearly everybody will need for the next several years, and so is the processing power on the device. The screen is massive, and unless you're tossing it in a bag, suitcase, or briefcase, putting it in your pocket will be a problem for most.
Imagine a graph of two lines over time — one is what a user needs to get the job done, which does climb, but at a much gentler rate than the imaginary quantification of what Apple adds to the devices year over year. So, the annual upgrades, especially at the high-end, like the iPhone 12 Pro Max has a larger gap between what the user needs to get the job done, versus what the phone has than ever before.
We don't know much about any of our readers on an individual level, but we do have a pretty good idea of the aggregate. We know you're demanding of your hardware, and other than a few annual upgraders, you like to keep things in service for well longer than a year, retiring them only when you have to.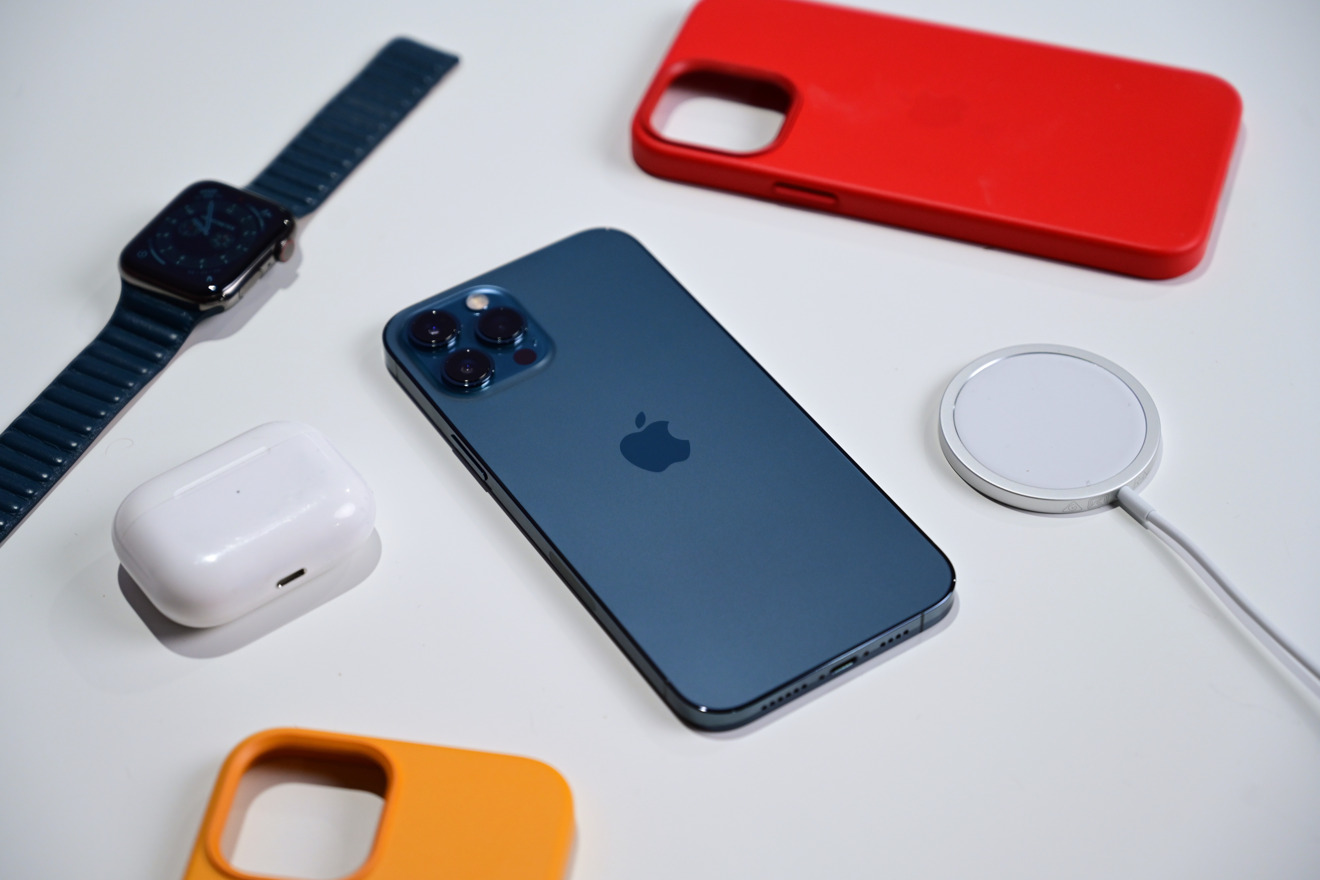 iPhone 12 Pro Max is maximum iPhone
While I have the incredible privilege of being able to review these devices as a living year in and year out facing the Internet for the last decade, the annual replacement cycle is not a chase that I would be on if I didn't review these for you, and need to be able to discuss them in a professional capacity. If I had my way, I'd turn over my personal devices every three years or so, cascading what still works well to folks that could use older devices.
I'm enjoying the iPhone 12 Pro Max, but it will never be a day-to-day carry for me. I like what it brings to the table from a computing perspective, and I look forward to what will trickle down to the rest of the line as physics allow, like what the iPhone X heralded for what's now in nearly the entire iPhone 12 family of devices.
But, unless you're replacing that iPhone X or older that you got at launch, or perhaps an iPhone XS Max that's got a few too many miles and drops on it, I'm not sure who needs to buy this phone, versus the iPhone 12 Pro non-Max.
If the iPhone 12 Pro Max is the iPhone you always wanted, buy it without fear. It is an incredibly solid device on every front, and will serve you well. It's just not for everybody.
Source link