Apple has more new iPhone options at nearly every reasonable price band than it has before. Here's which iPhone you should consider acquiring, whatever your price level happens to be.
Over the years, Apple has been keen to offer consumers a wide selection of iPhones, and at an equally wide range of prices. With relatively few exceptions, there's practically an iPhone available at the majority of price points, from $399 at the lowest all the way up to $1,399.
Of course, everyone has a different idea of how much they want to spend on an iPhone. Everyone who intends to buy an iPhone has a price in their head that they want to work around, or ideally below.
We hope to make the choice of what iPhone to get easier, as regardless of how much you have available to spend, there's probably an iPhone that fits the bill for you.
Overall price range
If you were to check out the prices of all iPhone models Apple has in its current range, it covers quite an array of price levels. With the exception of two $50 gaps, Apple has practically covered every single price point between $399 and $1,399.
Apple has managed to do this because its current iPhone range as sold through the online Apple Store includes devices from multiple generations, from the two-year-old iPhone XR and year-old iPhone 11 to the latest models, the iPhone 12 range. To round out the value end of the spectrum, there's also the second-generation iPhone SE.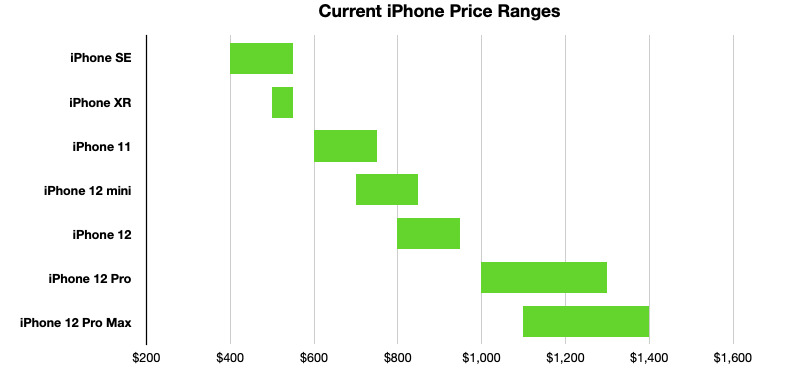 Apple's entire iPhone range covers almost all price levels between $399 and $1,399.
This leaves consumers with a wide array of devices to choose from, which may seem bewildering until you consider that there's a wide range in price at play. The graph above shows the overall range of the current catalog, and it's clear to see that you could easily put together general price bands.
If you break down the list to how much you want to spend, it only covers a few iPhone models at a time. Knowing how much you want to spend, the task becomes a case of working out which would be the best from a much smaller selection, without needing to consider the rest of the pricing spectrum.
Storage considerations
As the first graph shows, there's still some crossover in price. While this means you may be able to pick between multiple models of iPhone, the exact amount you want to spend will also help err you towards one model or another.
A key element of this is storage, as Apple charges more for higher-capacity models. In some cases, this could mean a trade-off for users, namely having to decide between getting a lesser iPhone model with more storage capacity or to risk it for a higher-specification model with lower storage amounts.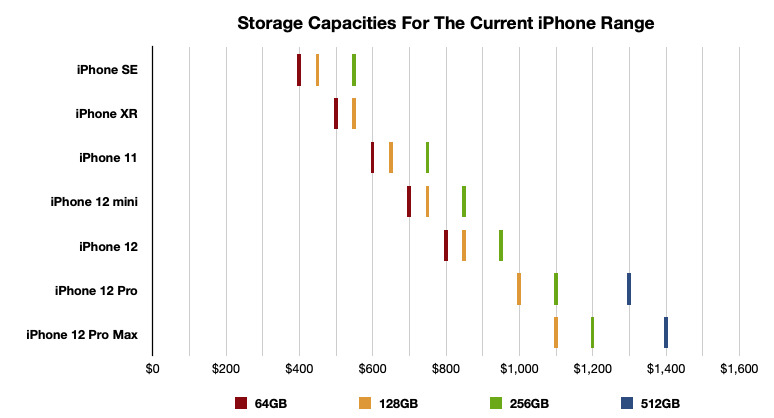 There's clearly some areas where you can buy a lower-specification model with a higher storage capacity for the same price as a newer iPhone.
To be fair, this has become considerably less of an issue as time marches on. In the days when consumers would be highly swayed by storage capacity due to its scarcity, it's not really a problem anymore.
Most of Apple's current range of iPhones start at 64GB of storage, which a few years ago would have been the upper-end of the capacity scale. In most use cases, 64GB will be enough for normal users.
For power users who need that storage capacity, such as mobile gamers and those who work in fields such as videography, it becomes more of a concern, and that potential trade-off becomes a real issue.
$550 or less – iPhone SE or iPhone XR
The extreme value end of the range consists of two models: The iPhone SE and the iPhone XR. Unlike the rest of the categories, there's actually some hard decisions to make here, due to some considerable differences in features.
The iPhone SE is the most intentionally-retro smartphone of the two, bearing a 4.7-inch Retina LCD screen with Touch ID. It's also the physically smallest out of the two, and can be acquired very cheaply at the lowest 64GB capacity for $399.
Meanwhile, the iPhone XR is the cheapest iPhone sold that offers Face ID and the modern edge-to-edge design, giving it a typical 6.1-inch display and a higher resolution.

The iPhone SE is smaller and higher performance, and can be quite a bit cheaper than the iPhone XR.
Despite being the cheapest, the iPhone SE does have a better A13 Bionic chip than the A12 used in the iPhone XR, so performance-wise the iPhone SE is better. The cameras are also quite comparable, though the iPhone XR also adds the TrueDepth functionality into the mix.
For storage, you're looking at paying out $449 for 128GB or $549 for 256GB on the iPhone SE, a considerable benefit over the $499 64GB iPhone XR or the $549 128GB model. Where storage is a priority, the 256GB on the iPhone SE seems to be the biggest advantage it has.
Out of the two, the low-priced end is locked up by the iPhone SE. Nearing the top end of both ranges, it's the retro styling, small size, high capacity, and high performance of the iPhone SE against the more modern-looking and conventional iPhone XR.
It depends on your priorities.
$600 to $950 – iPhone 11, iPhone 12 mini, or iPhone 12
Heading to the mid-range devices, the decision becomes much easier to make, as price becomes a much easier element to factor into decisions.
At the lower end, namely anything below $700, you're going to be looking at the iPhone 11 in either 64GB or 128GB capacities. There's not really much choice if you're leaning close toward $600 over $700, but the iPhone 12 mini does come into play at $699 itself.
If you have $700 to spend, the choice again becomes about the performance and storage trade-off. For the iPhone 11, you're looking at 128GB of storage, an A13 Bionic chip, and an LCD-based 6.1-inch screen.

The mid-range is dominated by the iPhone 12 mini, but the iPhone 11 is still an option for saving money.
Moving to the newer iPhone 12 mini would entail having a smaller screen at 5.4 inches, but one that is OLED-based that offers higher contrast and brightness levels, as well as a far higher screen resolution. That's not to mention the upgrade to an A14 Bionic chip and 5G support, among other smaller changes, but it would also mean half the storage of the iPhone 11 equivalent.
Given the lower need to worry about storage capacity since you're starting at 64GB, the best option for $700 is to go for the iPhone 12 mini.
At $800, you're going to also have to take into account the iPhone 12, which enters the fray with a 6.1-inch display and all of the capabilities of the iPhone 12 mini. Again, it's a trade-off for storage, as the iPhone 12 would be possible with 64GB of capacity, while the iPhone 12 mini could be bought with 128GB of storage.
Once more, the best option at $800 would be the iPhone 12 mini, unless you feel the trade-off of losing 64GB of storage for a larger screen is worth it. As the price rises upwards to $849, the trade-off is less of a problem, as the iPhone 12 mini would have 256GB versus 128GB on the iPhone 12.
If your bank balance can stretch to $949, the only iPhone available at that range is the iPhone 12 with 256GB. You could probably save a bit of money by going for the 128GB option then buying a case, but it depends on if you need that capacity.
$1000 or more – iPhone 12 Pro or iPhone 12 Pro Max
When you reach the upper echelons of the iPhone product range, namely when the price tag gains an extra digit and tips past $1,000, your choice effectively becomes limited to the Pro models.
While the $949 iPhone 12 may offer 256GB of storage and seem like a decent prospect, the upgraded features of the iPhone 12 Pro for $50 more still makes it a much more attractive purchase, even with 128GB less storage. While it may have been a case of debating whether an extra telephoto lens was worth the upgrade to Pro level in the past, the extra LiDAR and other smaller improvements makes it a much tougher job to justify sticking with the iPhone 12.

The premium end is made up of the iPhone 12 Pro and iPhone 12 Pro Max
There's arguably more of a decision to make at $1,099, as it's either the 256GB iPhone 12 Pro or the 128GB iPhone 12 Pro Max, which effectively benefits from a larger screen and a better camera zoom. For people who care considerably about image quality, they will opt for the Pro Max over the extra storage, but most other users will probably fare better with the larger capacity.
The next tough decision would be at $1,299, but with practically the same query: 512GB of storage on an iPhone 12 Pro or a 256GB iPhone 12 Pro Max with the same camera and bigger screen. At such high capacities, you're better off looking towards feature improvements, making the Pro Max a better buy.
Capacity isn't everything
Throughout this article, we've been taking the storage capacities of each of the models into account at the different price ranges, and in previous years it would have been a big factor in which model to recommend.
However, as all models start with a perfectly adequate amount of storage at 64GB or 128GB, onboard storage isn't really a problem. Indeed, the growth of cloud storage services such as iCloud, as well as the relative ease of gaining Internet connectivity over Wi-Fi or cellular at adequate speeds to do such storage justice makes them decent overflow options for when users need a bit more room.
There's still some cases where people would prefer having more onboard storage, but they are generally the exception to the rule.
Apple's move to add more storage to all models over time has lessened the grip of storage, so it's not really a factor anymore. Features and capabilities are what you really should be looking at when buying a phone, not if you can squeeze a few more photos onboard that could easily be uploaded to the cloud.
The bottom line is that, in most cases, you should go for the newer model in the range. The benefits of the technological upgrades now outweigh storage bumps by a considerable measure, and unless you have a very good reason to steer clear, you should err towards specification improvements where you can.
Further considerations
All of the pricing above is based on buying an iPhone outright, but it isn't the full story. The cost of an upgrade can be paid in different ways, which can further influence how much money you have to play with.
For example, there are many trade-in programs available that will take your old iPhone or other mobile devices and offer a sum that could be put towards the cost of a new iPhone, allowing you to go for an even better model, one with more storage, or even just to save money on your purchase.
If the immediacy of funds is the problem, there's also programs that can allow you to upgrade while paying in installments. In the United States, it is possible to sign up for Apple Card and to pay for a selection of Apple products each month as part of your Apple Card balance.
Apple also operates the iPhone Upgrade Program, that will provide new models of iPhone to its subscribers for a monthly fee, complete with AppleCare+. After 12 months, subscribers are eligible to upgrade to the newest iPhone model, if they trade in their current iPhone and start a new plan.
Source link