Apple's new event will be streamed live and available to watch online later today, at 1:00 P.M. Eastern Time Here's how to watch what's expected to be the launch of Apple Silicon.
As with its recent iPhone 12 and "Time Flies" events, Apple is again limiting precisely where you can watch the Apple Silicon launch online. It's still going to be available on YouTube, Apple TV, though, and also Apple's own site — but solely the US Apple site, none of the international ones.
Since this is also going to be another pre-recorded presentation, it's going to be immediately available with subtitles. An American Sign Language (ASL) version will certainly be posted on Apple's site after the launch, and may be available during it too.
Watch in a browser
Apple no longer specifies any particular browsers or versions that are supported. However, you will want to be using the latest Safari, Chrome, or Microsoft Edge.
To watch the event live, you will be able to go to the US Apple.com's front page, and see it streamed directly there. Typically Apple then leaves the steam available to replay for months, and in the same spot on the site for a few hours.
After it's moved from the top of the front page, you will be able to see it on the Apple Events page online. The replay is not limited to the US site, at some point you will be able to watch it on your local Apple site instead.
Watch on YouTube
Probably the most convenient way to watch the event is via the YouTube stream. Going by recent events, and depending on where you are, YouTube's stream can lag behind the event by a minute or two, but you can see it wherever you are in the world.
You're also able to find the stream in advance of the event and set a reminder for yourself. At time of writing, some 540 people have chosen to get a YouTube reminder about this event.
If they or you watch YouTube via a browser, you get the standard video-editing keyboard controls of J-K-L, which let you jump back (J), pause/play (K), and when you've scrubbed back, you can jump forward again (L). These controls are not available on the video as shown on Apple's website.
YouTube is of course also an app on iOS and Apple TV.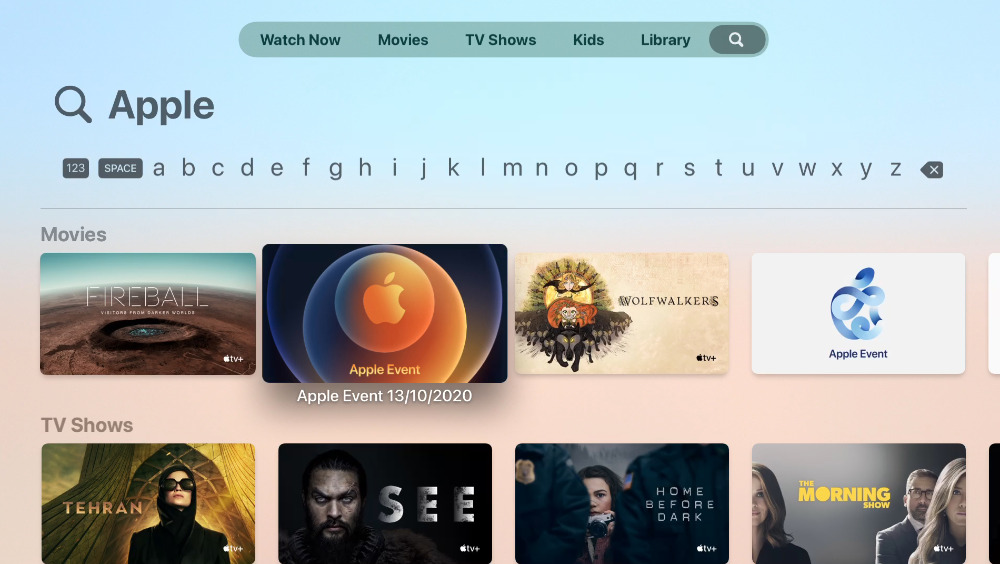 You will be able to watch via Apple TV, but it's hard to find Apple's events on it
Watch on Apple TV
Naturally, Apple's new events are always available to watch on both the Apple TV app, and the Apple TV device. As ever, though, good luck finding the event.
Until the event starts, there is no indication that the event is coming at all. After that, you can expect to find the presentation listed in the Movies section, for some reason.
You may need to search for it, too. Go to Apple TV's search and look for "Apple."
Keep track without watching
Wherever you are, you don't have to stay glued to every minute of Apple's live stream. It's surely going to be another well-made video, but it's also surely going to be quite a bit longer than a press release.
So follow along with AppleInsider's indepth coverage of all that's happening, all it means for us as Apple users, and more.
Plus ahead of the stream, you can read our continually updated guide to what to expect — and what not to expect — at this November 10 event.
Source link