The HomePod mini, Apple's pint-sized smart speaker, has started to ship to early customers ahead of its release on Monday, with customers receiving shipping notifications on their orders.
Pre-orders for the HomePod mini commenced on November 6, with the earliest customers managing to secure deliveries for November 16 or the following days. On Sunday, in anticipation of deliveries that will start from Monday, Apple has commenced informing customers that their orders are starting to ship.
Users of the Apple Store app are seeing updates to their order, as it progressed from "Preparing to Ship" to "Shipped," followed by messages from delivery firms notifying of the upcoming delivery. AppleInsider confirmed the change in status with its own HomePod mini orders.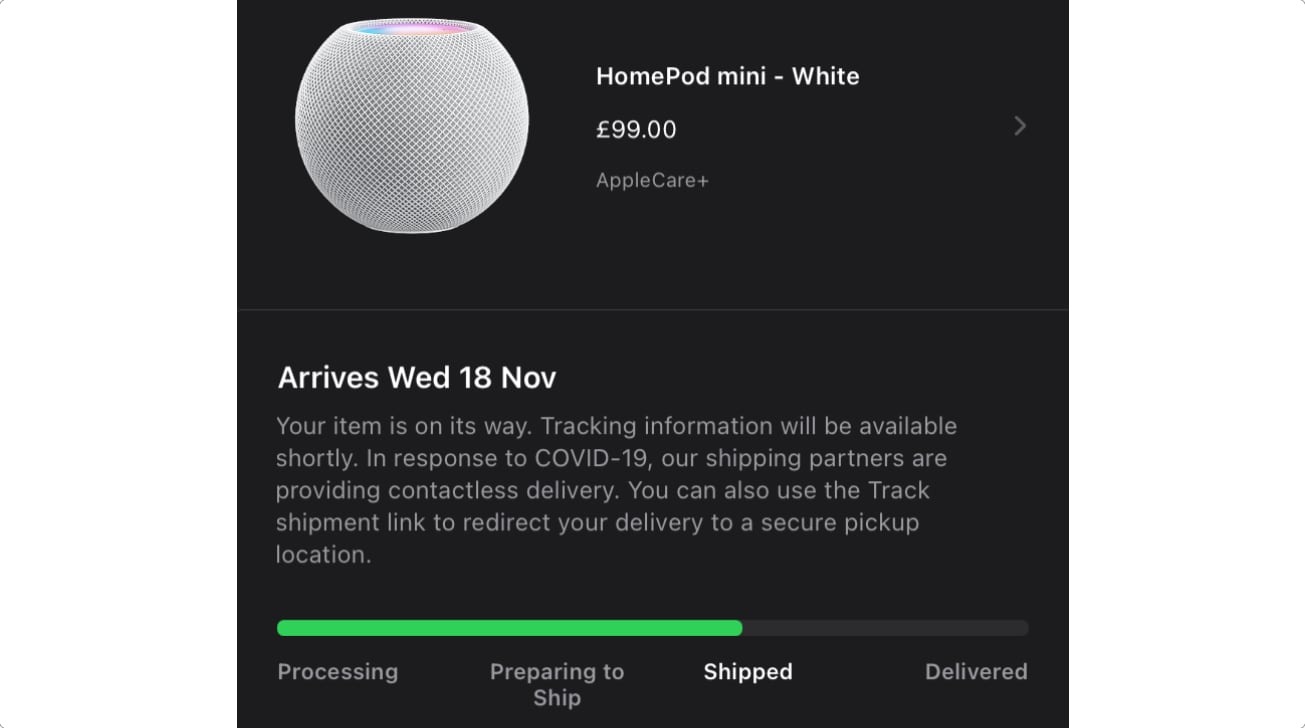 An example of a confirmed HomePod mini shipment in the Apple Store app.
The HomePod mini is currently available to order in Australia, Canada, France, Germany, Hong Kong, India, Japan, Spain, the UK, and the United States. Customers in China, Mexico, and Taiwan will also be able to buy the product before the end of 2020.
For some buyers of the HomePod mini, the speakers arrived earlier than Apple's intended street date for the device. In one post to the Reddit r/HomePod community, a poster reveals they had a pair of the speakers delivered early on Sunday, due to it being shipped early as an order from Best Buy, rather than from Apple directly.
Measuring 3.3 inches tall, the HomePod mini is a smaller version of the full-size HomePod, offering the same smart functionality in a more compact and price-conscious package. Able to be used in a stereo pair, the speaker can respond to Siri requests, play a variety of music and podcasts, and can even be used to control smart home accessories.
The inclusion of the U1 chip enables it to use Ultra Wideband, which will be initially used for detecting nearby iPhones placed in proximity to it, but could have enhanced capabilities down the line for "AirTags" and other products. It also functions as a hub for a HomeKit network, with added Thread connectivity available for use with future smart home appliances.
Source link