As holiday shipping deadlines loom, you might be wondering what to get for the special woman in your life — which is why we have a collection of thoughtful accessories that are sure to please.
Parker Hybrid Backpack Tote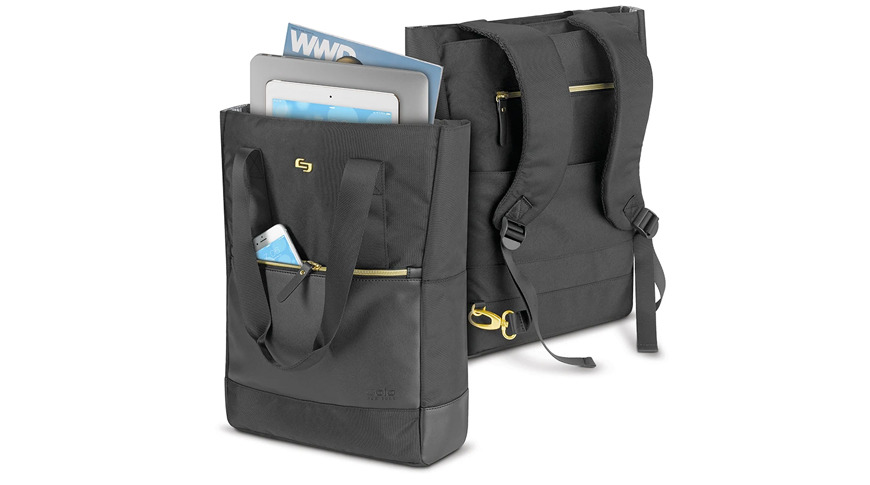 The Parker Tote is actually a hybrid bag — one part tote bag, one part backpack. It can fit 15-inch laptops, making it ideal for carrying a MacBook Pro, MacBook Air, or any iPad. The inside features a padded laptop compartment, as well as plenty of pockets for your phone, wallet, pens, and more. Two zippered compartments on the outside allow you to keep those quick-access items at hand.
The padded backpack straps are great for days when you need to use your hands for other things but easily tuck themselves away in a flap allowing the bag to be carried as a tote. The top securely zips closed as well, ensuring items don't spill out when the bag is placed on its side.
The sleek black design boasts gold hardware, which means this bag can be paired with any outfit at any time — it looks just as good with jeans as it does with slacks.
Bandolier Crossbody iPhone Cases
Marrying minimalism with functionality, Bandolier has managed to create our favorite crossbody iPhone cases.
One of the biggest complaints women have about smartphones is how difficult it can be to fit even a standard-sized phone into the pocket of your jeans. For those who don't habitually carry a purse, it can be challenging to find a way to keep your phone on hand.
Crossbody cases turn your iPhone into an ultra-minimalistic purse, allowing you to bring your iPhone along without fear of dropping it or leaving it at the coffee shop.
Bandolier's Hailey Crossbody case is our favorite crossbody case at the moment. It features a pebble-leather body, an open face, and a snap-back pocket to carry credit cards, cash, and ID. We tried out the Hailey in black with pewter accents, which we found stylish without dominating our look.
Sure, Bandolier's cases look gorgeous, but they also fit a wide range of body types. We tested ours on women who ranged from a size small up to a 3X and found that the adjustable strap allowed for comfortable wearing for everyone. Not only is the strap adjustable, but it's also removable, allowing you to take it off for those lazy days at home.
Twelve South's SuitCase for MacBook
Apple spends a lot of time designing their MacBooks to be sleek, simple, and portable. As logic follows, it wouldn't be a bad idea to have a case that follows the same design principles.
Twelve South has recently launched the SuitCase for both the MacBook Pro and the MacBook Air. It provides the protection of a laptop case with the convenience of a shell.
It has three layers of protection to keep your MacBook looking its best. The first layer is a quilted, water-resistant fabric exterior that looks as good as it feels. Just under the fabric is a hard plastic shell designed to keep your MacBook ding-and-dent free. Inside of the case is a soft layer of microfiber that keeps the surface of your MacBook safe from scratches.
The SuitCase features a double-zipper enclosure, which allows you to charge your MacBook while it's tucked safely inside. An internal pocket allows you to keep documents, charging cables, and odds and ends within arms' reach.
The Apple Watch SE or Apple Watch Series 6
We're going to assume that most people are aware of the Apple Watch, but we'd be remiss if we didn't mention it as a great gift idea.
Which should you choose? It depends on the features the wearer will need and the budget of the buyer.
The Apple Watch SE is a great entry-level model for someone new to Apple Watch. While it may lack some of the features of the Apple Watch Series 6, it still an excellent smartwatch. And with Apple Fitness+ on the way, you're giving the gift of a high-quality at-home workout, too.
The Apple Watch Series 6 is perfect for the fitness gurus and Apple Watch veterans in your life. It includes a few features the Apple Watch SE doesn't — such as an always-on screen and blood oxygen monitoring — making it perfect for power users. Additionally, it has two colors — (Product)RED and Blue — that the Apple Watch SE lacks.
Nomad's Modern Slim Leather Strap for Apple Watch
A stylish leather strap can help dress up an Apple Watch, turning it from functional tech to an elegant jewelry piece. Nomad's Modern Slim Leather Strap is made from vegetable-tanned leather from one of America's oldest tanneries and develops a unique patina as it is worn over time. It is available in both natural leather and black leather.
This strap is designed to fit all versions of the Apple Watch and can be purchased with either gold, silver, or black hardware. Modern Slim Leather Strap is on sale for a limited time, now only $48.95 when you order it from Nomad directly.
Source link