Apple's MagSafe Battery Pack for iPhone 12 is mired in controversy over its capacity and price. After using it for a while, it has become one of our go-to accessories.
Unintended as a way to extend your battery for days, Apple's MagSafe Battery Pack is the ideal solution when you need those crucial extra few hours or have to get through that long weekend. Assuming you have your expectations in line with Apple's design, the MagSafe Battery Pack is the best you can do.
Design and build
Apple's MagSafe Battery Pack is a compact device. It will just slightly double the thickness of your iPhone which is notably thinner than most third-party options we've seen to date.
The outside is a soft-touch plastic shell and thus far has held up well to fingerprints, dirt, and dust. Much better than Apple's silicone cases do. Apple has, as it tends to do, kept things minimal. There are no buttons or controls whatsoever.
The only penetrations into the plastic are a pinhole LED that lets you know the battery status while plugged in and that Lightning port for charging.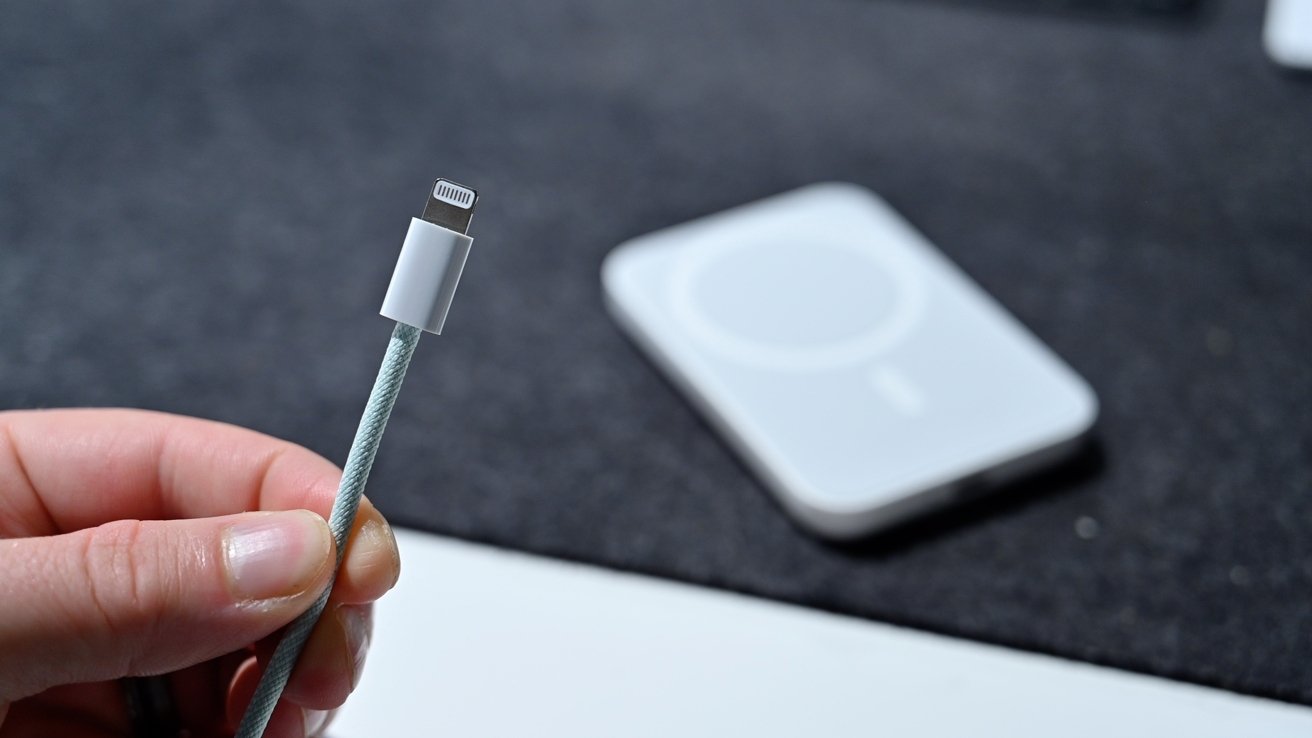 The charging side of the battery has a light grey rubberized pad to prevent slippage, recessed in the distinctive MagSafe shape. We've seen deformation of leather cases when connected with MagSafe — and Apple tells users to expect it.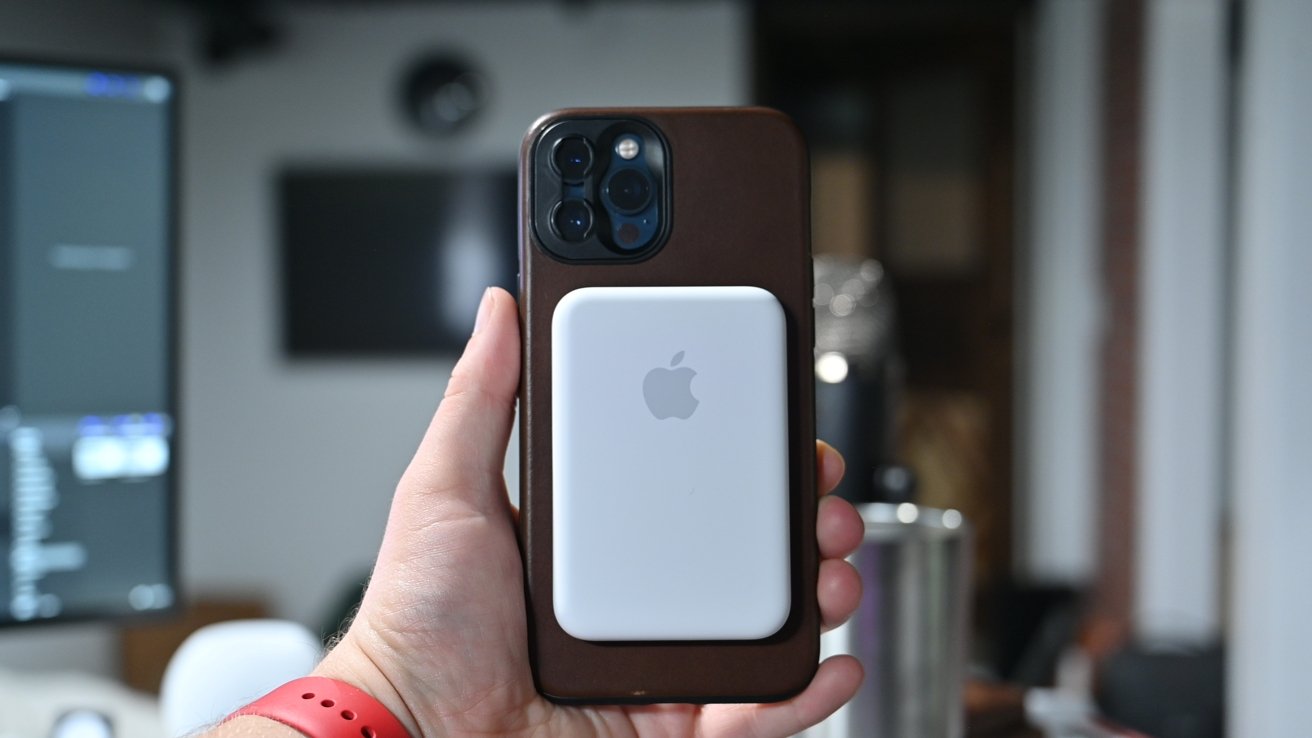 Using Apple's MagSafe Battery Pack with Nomad's Rugged Case
This back panel appears to be a stock Apple component or strictly regulated in the program Apple controls true Magsafe peripherals with. When compared to the only authorized third-party MagSafe mount from Belkin, there are no differences.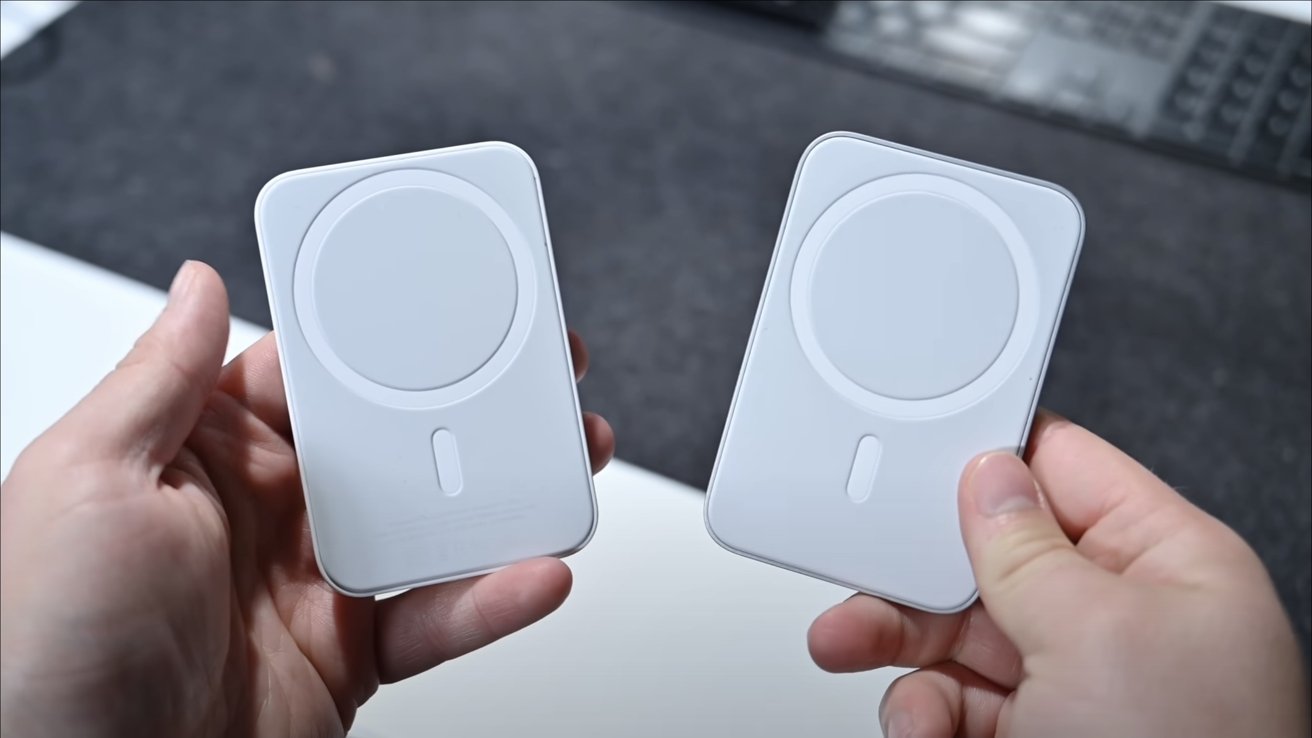 Apple's MagSafe Battery Pack (left) and Belkin's Car Mount Pro (right)
Combined, all of this delivers a click when you connect the battery to an iPhone. We assumed the click was either a design feature or issue when we reviewed the Belkin vent mount but now see that the cause must lie with Apple.
The best we can describe it is that as you bring the magnets towards one another, the attraction causes an internal magnet to shift, hitting against the plastic surface and click. It doesn't rattle, and you only hear it when putting the battery on, but with the folks we've spoken to about it, it can be off-putting.
We love Apple's minimalist nature here. You shouldn't be required to think about a battery pack and certainly shouldn't need to turn it on or off.
The magic of MagSafe means if you don't need it, you can remove it. It charges when it needs to and is one less thing for you to worry about.
Integration with iOS
To diffuse any responsibility on your part in managing your battery, Apple has put in place tight integration with iOS. To fully support the battery, users need to have iOS 14.7 or later. Currently, beta users of iOS 15 don't have full support, but we're expecting it soon.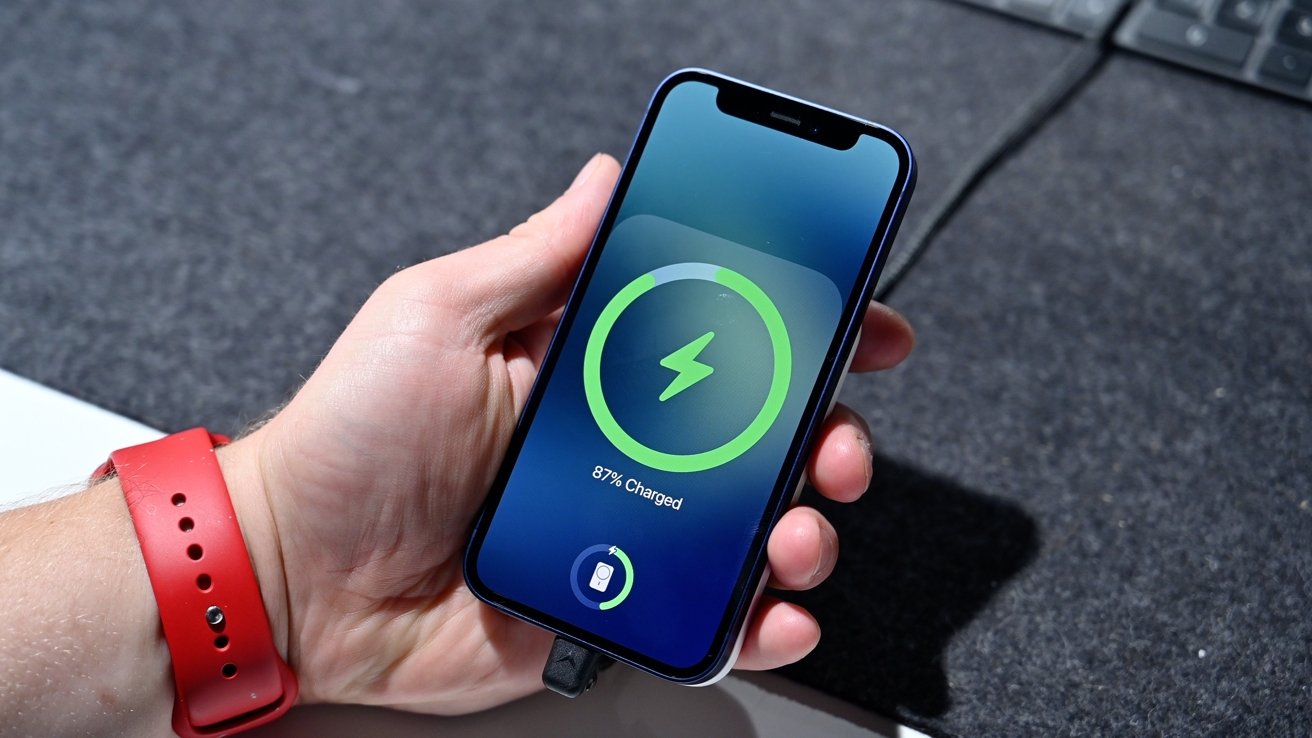 The on-screen animation whenever the battery pack is attached
When you connect the battery to your phone, a slick graphic appears on-screen that animates in. The center shows your iPhone's battery percentage both in numerical fashion as well as graphically. Below that, and much smaller, is an animation displaying the battery pack's battery.
If your iPhone is in low power mode, the circle will highlight in yellow rather than green.
At any time, you can also glance the battery's remaining capacity with Apple's battery widget on your Home Screen. The battery widget can also be Smart Stack so that it intelligently shows when your battery pack is connected.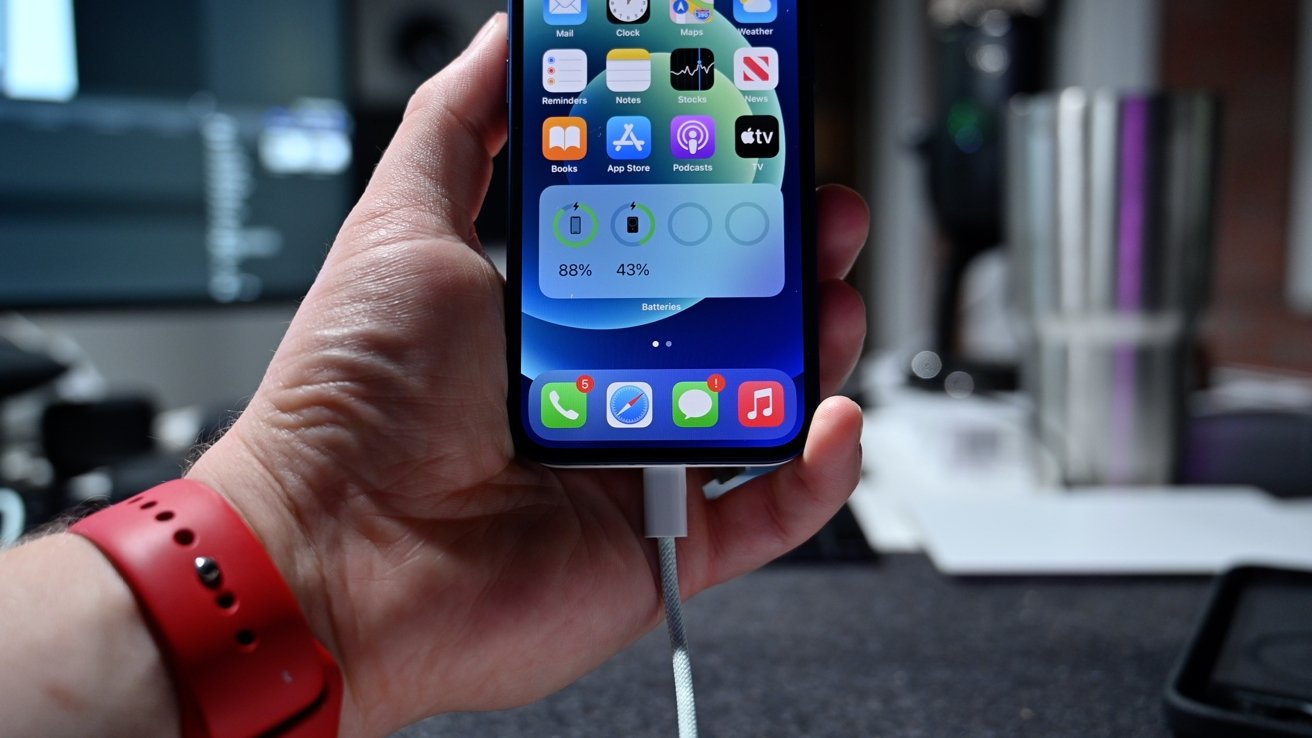 Apple's battery widget
A battery is not eternal. Given the volume and capacity that it has, an iPhone battery's overall life is generally measured in years. User behavior can cut this down, and Apple has taken steps to help with this, and minimize the accumulation of minor damages over time.
When the battery is connected to an iPhone, it will charge your iPhone up to 90 percent before stopping, using Apple's smart battery charging algorithm. The final stretch from 90% to 100% takes a disproportionate toll on overall battery longevity versus the rest of the charge, so Apple keeps you topped off at 90% rather than letting your battery take the hit.
You can go past this 90% if you'd like by going into Control Center and manually allowing it.
In a further extension of battery maintenance, if the iPhone internal temperature is high, the battery will cut off charting when the phone hits 80%. High temperatures are also harmful to lithium batteries, so battery charging is halted a bit earlier to prevent any further damage.
Capacity and speed
Apple isn't exactly transparent about what it expects any user to see in real life when using the MagSafe Battery.
On the rear of the battery pack, we can see the posted capacity is 1640 mAh, with third-party models boasting 5,000 mAh. But as we discussed in depth, this isn't a fair comparison — and this battery has much more capacity than it appears just based on a milliamp-hour rating, which doesn't tell the whole story.
We charged up our iPhone 12 Pro Max from a dead battery and a fully charged MagSafe Battery Pack. It took almost two hours on the dot for the battery pack to drain and charged our iPhone up to 53 percent.
Apple's MagSafe Battery pack isn't designed for multiple iPhone charges on one fully-powered battery pack. Like its predecessor, it's designed for scenarios like those rare 18-hour workdays, when everything around you is on fire, and you need to eke out a few more hours from your iPhone when away from a wall socket.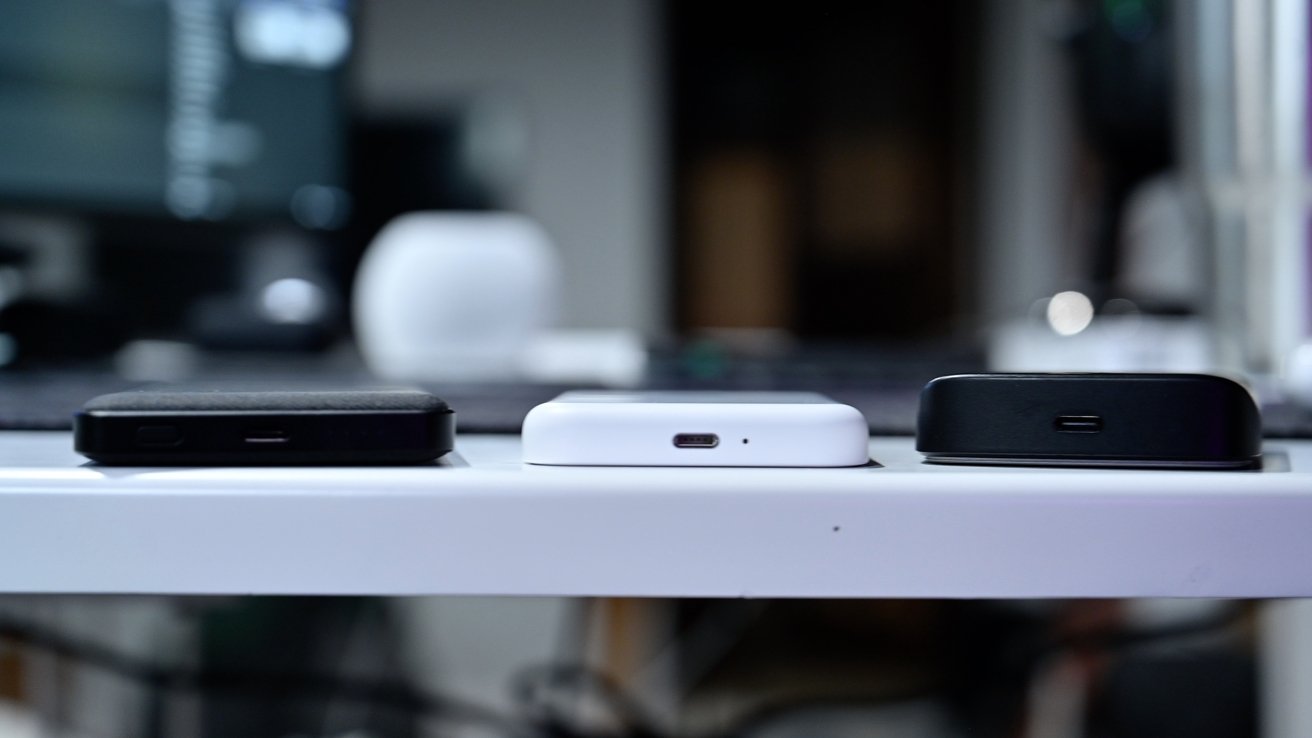 Small yet mighty. Apple's battery compared to the Hyper (left) and Mophie (right) models.
Those third-party batteries that loudly tout those larger 5,000mAh capacities don't get you nearly as far as you'd expect either. With a Qi efficiency rating of only about 50% versus MagSafe's close to 80%, those will get you almost the same amount of usable power as Apple's battery pack.
The battery can sit on the back of our phone as much as it needs to. We aren't looking for speed. We prefer the battery to stay healthy combined with getting much actual runtime per day as possible.
Apple says the battery will provide 5W of power while on your phone, and that can boost up to 15W of power while connected via Lightning. Apple hasn't said how fast the battery pack itself can charge, but this can be tested.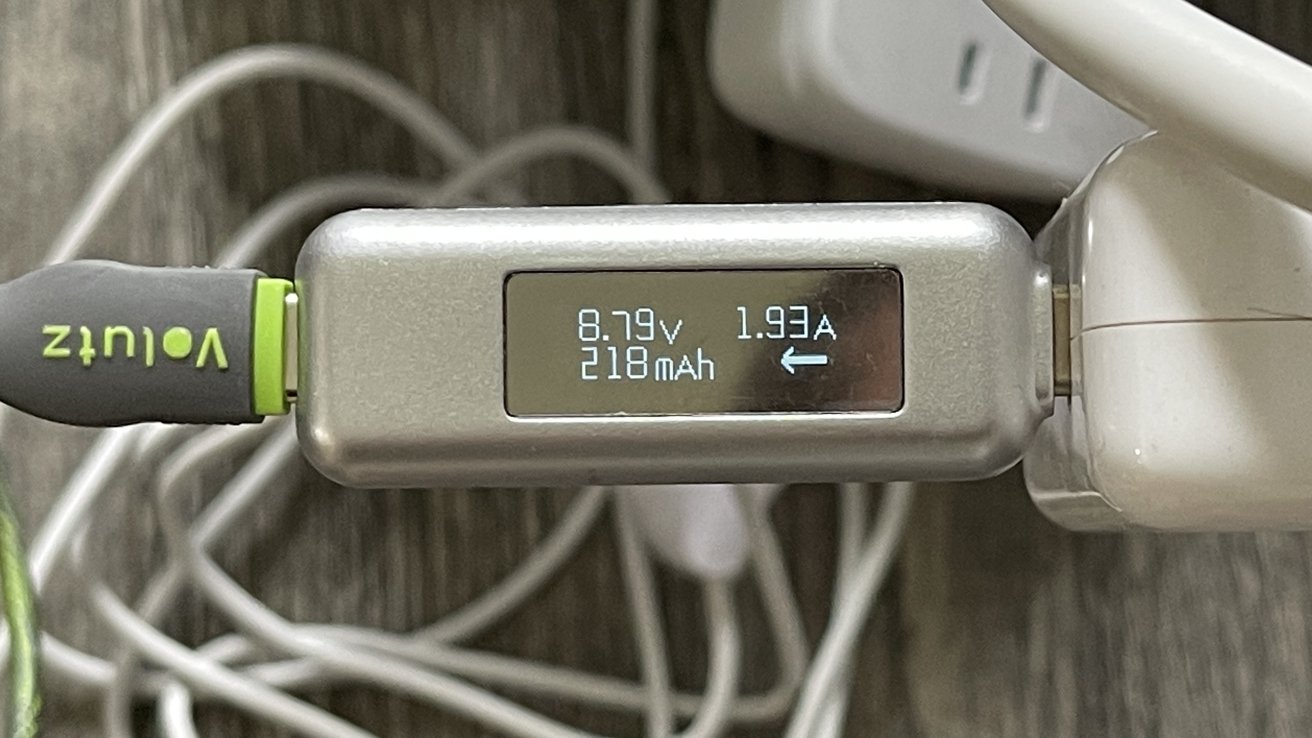 Charging the MagSafe Battery by itself averaged 17W and it averaged 20W when the iPhone was also connected
Using a power gauge, we measured an average of 17W of input power using a USB-C Lightning cable. When we connected our iPhone to the battery, which is then in turn connected to power by Lightning, we saw this jump up to over 20W of power.
Connecting with Lightning allows the MagSafe Battery to charge at roughly 5W. At the same time, your iPhone will charge with 15W of power simultaneously.
It is also important to note one of the best features of Apple's battery. It is the first — and only — device to support reverse wireless charging from an iPhone 12. When you have your iPhone connected via Lightning, it can charge an attached battery pack.
This is immensely helpful if you need to connect your iPhone to another device, the best example being CarPlay. You can hop in your car, connect your iPhone to your car's interface, and charge both your phone and battery at the same time. No other battery pack can do this.
As MagSafe is fully backward compatible with Qi, this is technically able to charge any other Qi-enabled device.
Bafflingly, though, you can't take a MagSafe charger and use it to charge the battery pack.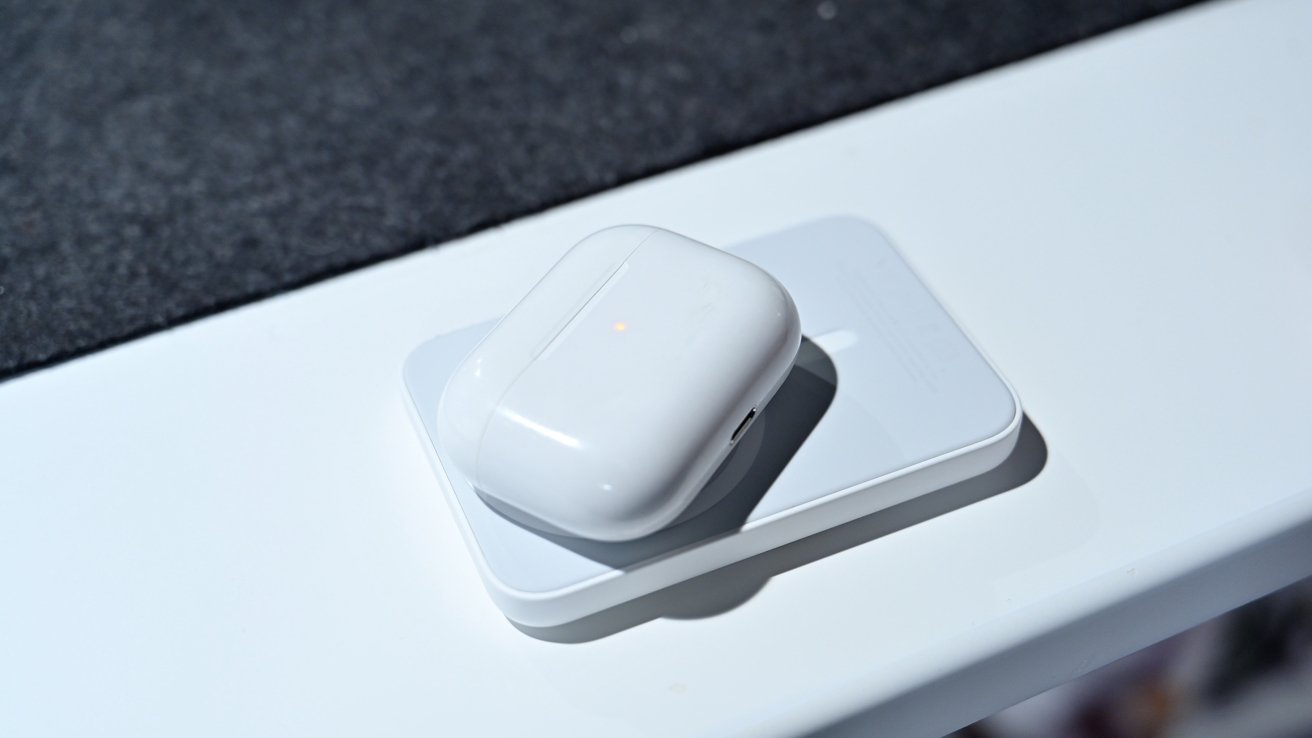 Charging AirPods Pro on the MagSafe Battery Pack
As an example, we could place our AirPods Pro on the circle, and they instantly began to charge. You could charge any older iPhones or Android devices too.
Controversy can't be avoided
Apple product releases always have some level of controversy, but it seems unusually loud this time around. Some of the "issues" we agree with, and some we don't.
Opinion-laden commenters have had issues with the unit's dimensions, the weight, the input method, the lack of buttons, the 5W charging speeds, the capacity, and the lack of color options.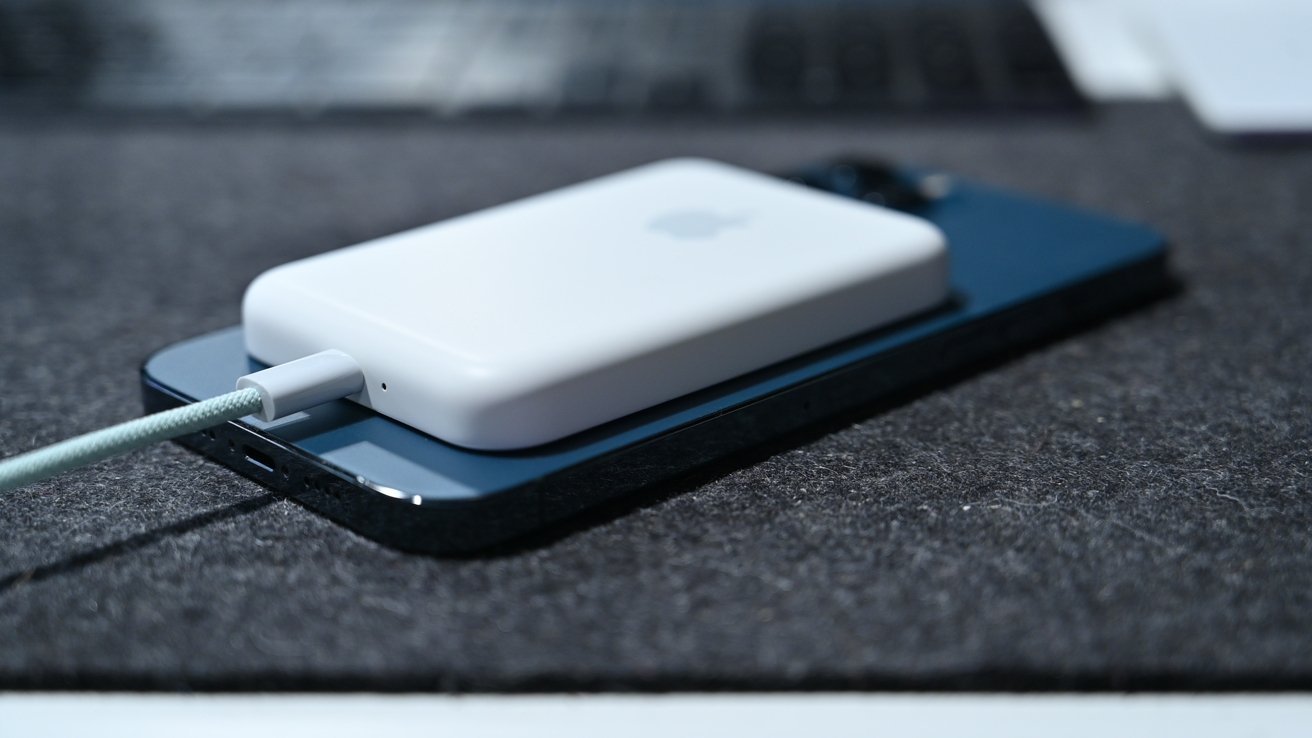 No one product is perfect for every consumer. While we're sure folks complaining about the dimensions have their own reasons, applying a very personal conclusion like whether or not the phone and battery will fit in your pants pocket and using the widest of brushes to spread that opinion across the board doesn't suit anybody.
Apple only offers the battery in white, and it is a different shade of white compared to Apple's white silicone case. This seems like an odd choice, but it may come down to the chemistry of the different materials.
Of all the criticisms, we agree with the input method most. Lightning is fine, but with the launch of the iPhone 12, we've moved many charging solutions to MagSafe.
The times you'd need this battery most, such as while traveling, are the exact times we're trying to pack minimally and stick with just MagSafe. Now a second cable — albeit a small one — will always be needed to be brought if the battery pack is to remain charged.
In an ideal world, the MagSafe Battery Pack would itself be charged via Magsafe. MagSafe in, MagSafe out.
A relatively minor issue is that you can only mount one MagSafe device at a time on an iPhone. If you've got the MagSafe wallet, for instance, you'll be swapping it in and out for that long night on the town. Fortunately, the wallet and battery are slim enough to fit into most pockets.
Should you buy Apple's MagSafe Battery Pack?
This battery pack is certainly not for everyone and is a niche product. Some people can get a couple of days out of their iPhone's battery, so the need for an external one is moot.
There are also many more affordable options on the market, though as we already expressed, we don't think that trade-off is worth it.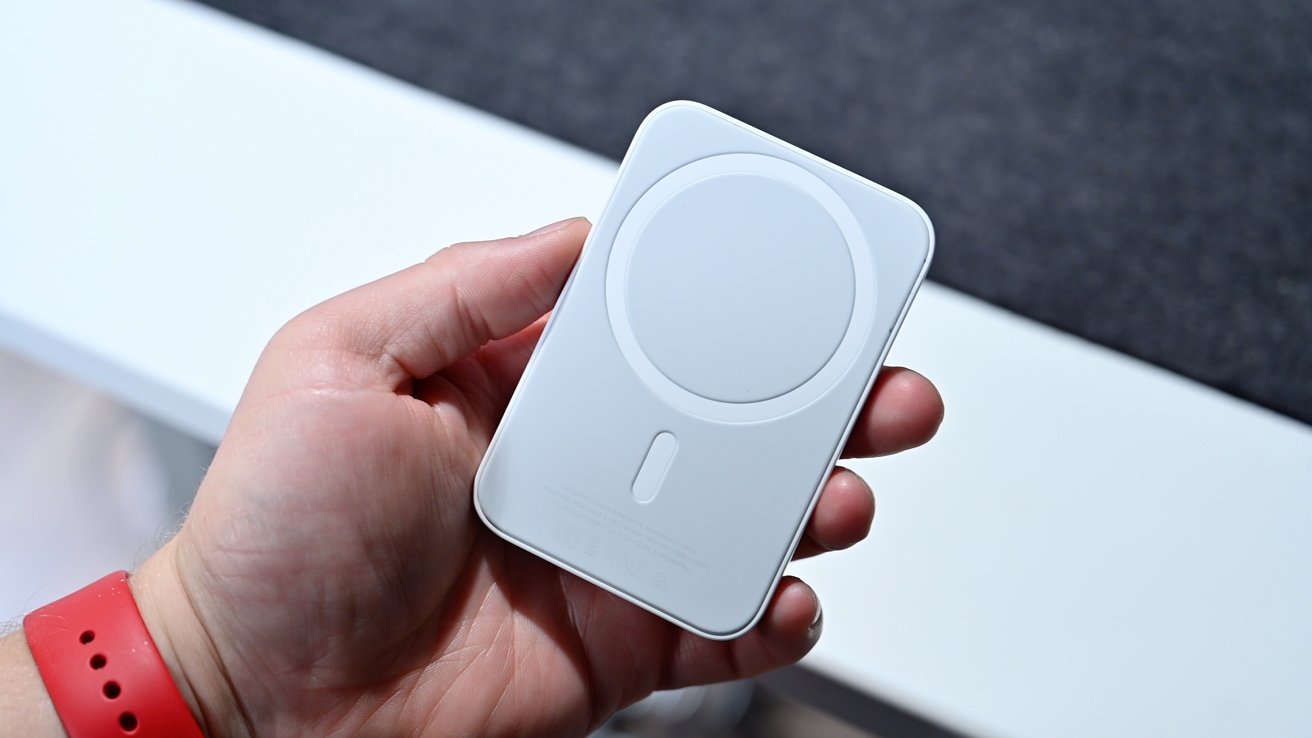 Apple's MagSafe Battery Pack
If you find yourself on occasion needing to squeeze a few more hours out of your iPhone before you get home, and Low Power Mode isn't quite doing it, Apple's MagSafe battery is going to be as good as it gets. It is compact, solid, effortless to use, integrates well into iOS, and has features built-in for both the MagSafe battery and your phone's battery long-term health.
The price isn't inconsequential. The MagSafe Battery is priced like most of Apple's products. Whether or not that price is worth it depends very much on how you value deep Apple integrations.
Compact form factor

Wonderful iOS integration

Thoughtful battery health features

Fast power input

Up to 15W of power while plugged in

Magnetic force is strong

Uses same Lightning cable as iPhone

Provides good amount of charge to latest iPhones

Supports reverse wireless charging
No color options

No MagSafe or Qi input

Typical Apple price tag

Sometimes off-putting click when connecting
Rating: 4 out of 5
MagSafe Battery Pack deals
Source link